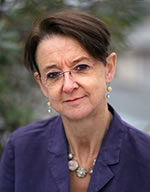 Rachel Appleby has taught English for International House and the British Council in the UK, Spain, Portugal, Slovakia, and Hungary, where she now lives. Since 1993 she has focused mostly on teaching English to in-company students, and also, more recently, to University students.
Rachel works part-time at ELTE University in Budapest, teaching methodology, language, cultural studies and communication skills on the BA, and on the MA distance and full-time programmes. She is also a teacher trainer, specifically for Business English, but also a CELTA trainer. She also teaches Business English, and one:one freelance.
Rachel is co-author of OUP's Business one:one Intermediate+, Pre-Intermediate and Advanced. She also co-wrote the Teacher's Book for OUP's Business Result Advanced, and the Pre-intermediate and Upper Intermediate Students' Books of the new edition of International Express. She is currently involved in the writing of the new OUP 6-level series Navigate.