Buy access to Oxford Reading Club
Oxford Reading Club is a digital library of graded readers including hundreds of e-books for learners of all ages and levels of English. Find the best option for you below.

Library access only
This option is suitable for individuals, or schools looking to share a large range of graded readers with their students.
The library offers interactive features and activities to keep learners engaged and improve listening, reading, speaking and vocabulary.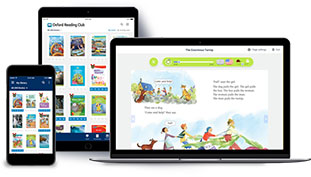 Library access with Oxford Reading Club Learning Management System
This option allows schools to manage student access to the library via the Oxford Reading Club Learning Management System.
Through the Learning Management System, teachers can create classes, track reading progress and set reading assignments.