American English File Level 4 Classroom Presentation Tool Access Card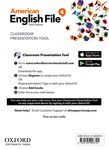 American English File Level 4 Classroom Presentation Tool Access Card
New Edition

Third Edition
| | |
| --- | --- |
| Format: | Digital Licence Key |
American English File's unique, lively and enjoyable lessons are renowned for getting students talking.
How will American English File Third Edition get your students talking?

Deliver heads-up lessons with the Student Book and Workbook Classroom Presentation Tools, a digital resource for the front of the class with an extensive range of easy-to-use features. Encourage the whole class to participate with interactive activities and video that fill the screen and boost engagement.

For teachers, it's easier than ever to run successful lessons with built-in tools including audio and video, answer keys that reveal answers one-by-one or all at once, and annotation tools. Plan lessons wherever you like, from your tablet device or computer, then see your notes, annotations and links in your classroom computer.

Access your Classroom Presentation Tool online on a computer, offline on Windows, Mac and Linux, and on an iPad or Android tablet.
Student Book Classroom Presentation Tool
Workbook Classroom Presentation Tool
Show the Student Book and Workbook on screen during lessons and focus your students' attention on a single activity.
Play audio and video straight from the page, with scripts so your students can follow the dialogue.
Speed up or slow down the audio to tailor lessons to your students' listening level.
Record your students speaking and compare their voices to the course audio.
Use the built-in Oxford dictionaries to find definitions at the right level for your students.
Plan your lessons wherever you are. Add text or audio notes to a page, save your web links, then open them in class. Use the pen and highlighter tool to draw attention to a question, or complete an activity.
Reveal the answers to students one-by-one or all at once. Mark the answers on a page, then delete them so the class can try again.
Switch between Classroom Presentation Tools for the Student Book and Workbook with one click.
American English File Third Edition builds on tried and trusted methodology and contains uniquely motivating lessons and activities that encourage students to discuss topics with confidence.

The course offers a range of materials that you can use according to your students' needs and the time and resources you have available:

Student Book with Online Practice allows students to practice and develop their language skills, catch up on lessons they have missed and track progress with Online Practice.

Workbook reinforces each lesson and can be used as extra practice during class, or set as homework.

Enhanced video integrated into the Student Book. Video listenings integrated into each even-numbered File. Practical English activities follow the entertaining drama with Rob and Jenny. In addition, the interactive videos allow students to practice the language from the Practical English lessons.

Online Practice with Sound Bank Videos gives the students the unique opportunity to listen to a clear model of the English sounds.

Teacher's Guide with Teacher Resource Center gives you everything you need to create flexible lessons that work for your students.

Student Book and Workbook Classroom Presentation Tools show the course content on screen, making it easier than ever for teachers to deliver heads-up, engaging lessons.

Quick tests and File tests for every File, as well as Progress Tests, an End-of-course Test, and an Entry Test, which you can use at the beginning of the course.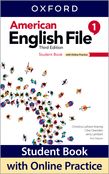 Loved by teachers worldwide for getting students talking.