American English File Level 5 Student Book With Online Practice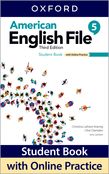 American English File Level 5 Student Book With Online Practice
Third Edition
| | |
| --- | --- |
| Format: | Mixed media format |
American English File's unique, lively and enjoyable lessons are renowned for getting students talking.
How will American English File Third Edition get your students talking?

The Student Book is packed full of interesting content to keep students of all levels talking.

Online Practice gives students the opportunity to practice and develop their language skills or catch up on a class they have missed.
This pack includes:
Student Book
Online Practice
New and updated texts, topics, and tasks that make students want to speak in English.
Students build confidence to communicate with a proven balance of Grammar, Vocabulary, Pronunciation and skills in every File.
Each Student Book comes with access to new Online Practice that is directly linked to each Student Book lesson.
New video listening activity integrated into each even-numbered File. These short documentaries and dramas make class time more dynamic and exciting.
New Sound Bank videos bring American English File's unique Sound Bank to life.
Colloquial English lessons feature video interviews which help students to focus on natural spoken language.
American English File Third Edition builds on tried and trusted methodology and contains uniquely motivating lessons and activities that encourage students to discuss topics with confidence.

The course offers a range of materials that you can use according to your students' needs and the time and resources you have available:

Student Book with Online Practice allows students to practice and develop their language skills, catch up on lessons they have missed and track progress with Online Practice.

Workbook reinforces each lesson and can be used as extra practice during class, or set as homework.

Enhanced video integrated into the Student Book. Video listenings integrated into each even-numbered File. Practical English activities follow the entertaining drama with Rob and Jenny. In addition, the interactive videos allow students to practice the language from the Practical English lessons.

Online Practice with Sound Bank Videos gives the students the unique opportunity to listen to a clear model of the English sounds.

Teacher's Guide with Teacher Resource Center gives you everything you need to create flexible lessons that work for your students.

Student Book and Workbook Classroom Presentation Tools show the course content on screen, making it easier than ever for teachers to deliver heads-up, engaging lessons.

Quick tests and File tests for every File, as well as Progress Tests, an End-of-course Test, and an Entry Test, which you can use at the beginning of the course.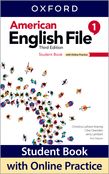 Loved by teachers worldwide for getting students talking.