Hello
You can visit our worldwide website for our globally available teaching resources, or visit our local website for for products, events and materials for your area.
Please choose below:
American Headway Level 1
Proven Success beyond the classroom
Third Edition
Still the world's most trusted adult English course – American Headway Third Edition combines a perfectly-balanced syllabus with more conversation, assessment and digital teaching and learning resources than ever before.
American Headway is the course you can always trust. Its proven methodology – focus on grammar, clear vocabulary syllabus, integrated skills work – was developed by award-winning authors John and Liz Soars to give you lessons that really work in class. The third edition supports students to succeed beyond the classroom more than ever before with:
More conversation to help students accelerate their progress in speaking
100% new downloadable assessment to prepare students for success in high-stake tests
A new digital teaching and learning package to engage students in and beyond the classroom
Clear focus on grammar
Balanced, integrated-skills syllabus
75% new content engages learners with fresh topics
More speaking opportunities
100% new assessment available to download from the Testing Program
Oxford Online Skills Program offers students targeted practice to improve their reading, writing, listening and speaking skills – 30 hours per level
iChecker Online Self-Assessment provides students with automatically graded online self-assessment to prepare to standardized tests.
The
Headway
series and its award-winning authors, Liz and John Soars, have helped around 100 million students in over 127 countries learn English. Teachers around the world have told us that Headway helps students succeed in and beyond the classroom. Read their stories at
www.oup.com/elt/provensuccess.


American Headway third edition supports students to succeed beyond the classroom more than ever before. Students can:
Accelerate their progress in speaking and prepare for high-stake tests with more conversation.
Manage their own learning with new digital resources.
The Oxford Online Skills Program allows students to improve their reading, writing, listening and speaking skills independently.
iChecker Online Self-Assessment prepares students for exam success with a variety of exam-style test preparation exercises.
American Headway
also supports teachers to prepare successful lessons. In our
American Headway
global teacher survey (Oxford University Press, 2014), 89% of teachers reported that they are more creative and willing to try new activities after using
American Headway.
71% said they are more passionate in their teaching. With the third edition, teachers can now:
Download 100% new assessment material from the Testing Program.
Create a dynamic classroom environment with classroom presentation software.
Find out more about American Headway Third Edition by watching
this short video.
What do teachers love about American Headway?
Teachers from around the world tell us what they love about
American Headway.
How to get started teaching with the online practice for your course
Take a look at our short tutorial videos, webinar recordings, and guides to help you get started, manage your account, and use the learning management tools. Go to
www.oup.com/elt/teachonline
iChecker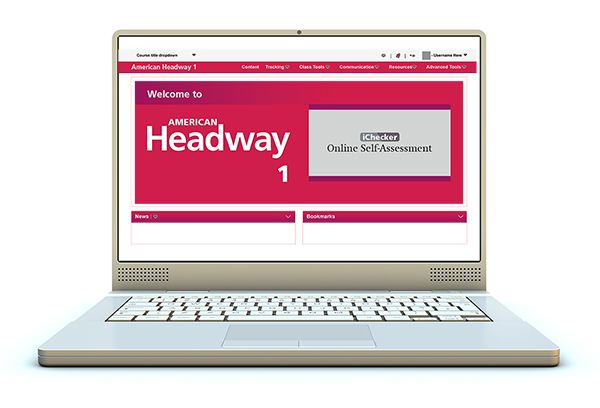 iChecker Online Self-Assessment allows students to manage their own learning and consolidate their knowledge.
Prepare for exam success: Online test preparation lessons help students to apply their knowledge in an exam format, preparing them for success on the TOEFL® IBT and other standardized exams.
Receive instant feedback: Interactive and automatically graded activities provide students with instant feedback for independent learning and improvement.
Review all key learning points: Progress checks for each unit ensure that students review what they have learned in class.
Classroom Presentation Tool
Deliver heads-up lessons with the Classroom Presentation Tool, a digital resource for the front of the class with an extensive range of easy-to-use features.
Download to your tablet or computer, connect to an interactive whiteboard, projector or screen and teach lessons that run smoothly – every time.
Play audio and video at the touch of a button. Capture your students' attention with the Focus tool: activities fill the screen so that everyone can participate, even large classes.
Take your classroom presentation tool with you and plan your lessons online or offline, across your devices. Save your web links and make notes directly on the page – all with one account.
Testing Program
The Testing Program can be used to extend students' learning, with 100% new assessment material available to download online.
Increased flexibility:Tests can be downloaded online and can be sent to classes as a digital version, or used as a print version.
Wide range of testing material:

Unit tests
Skills Test
Stop & check tests
Progress tests
Exit tests
For American Headway Level 1
(10)