Hello
You can visit our worldwide website for our globally available teaching resources, or visit our local website for for products, events and materials for your area.
Please choose below:
English File fourth edition Advanced Plus
Gets you talking
Fourth edition
How will English File get your students talking?

Advanced Plus is for higher-level students who want to push the boundaries of their English learning.

Advanced Plus is a genuine step-up from the Advanced level, providing students with new, more challenging input with a focus on concepts such as finer shades of meaning, using language flexibly, more abstract and complex topics and an appreciation of humour.
Student's Book with Online Practice
Teacher's Guide with Teacher's Resource Centre
Workbook (with key)
Workbook (without key)
Student's Book/Workbook Multi-Pack A
Student's Book/Workbook Multi-Pack B
Student's Book Classroom Presentation Tool
Workbook Classroom Presentation Tool
Student Book e-book, Workbook e-book
Teacher's Resource Centre
Relevant, entertaining and authentic content, providing you with a clear structure to effectively teach and challenge these students.
Video listening activity integrated in to each even-numbered File. These short documentaries and dramas make class time more dynamic and exciting.
Conversation feature allow students to observe authentic, unscripted conversations in English and learn and practise features of natural conversation to express their own ideas.
Advanced Plus helps students develop relevant skills for higher-level exams, including practice activities in the Revise and Check sections and exams skills development in Writing sections. Further skills development available in 'Use of English' activities in the Workbook and on Online Practice.
Online Practice provides learners with learning tools and longer listening and reading texts to further challenge students at this level outside of class.
Teacher's Resource Centre allows you to manage all English File resources and teaching materials in one place online.
Classroom Presentation Tool shows the course content on screen, with interactive features making it easier than ever for teachers to deliver heads-up, engaging lessons.
All your
English File
resources available to manage online or download in one place.
All the Student's Book audio/video files and scripts
Detailed lesson plans from the Teacher's Guide
Answer keys
All the photocopiable activities from the Teacher's Guide, including customisable versions
All the Workbook audio files and scripts
Tests and assessment material, including: an Entry Test;
Progress Tests; an End-of-course Test; a Quick Test for every File; and complete test for every File. There are A and B versions of all the main tests and audio files for all the
Listening tests
CEFR documents
Find your access code in the Teacher's Guide to log in to the
English File
Teacher's Resource Centre for the first time.
Watch the video below to hear Co-author Christina explain how the team finds interesting material for the books.
Online Practice offers a variety of digital resources and interactive elements to use both inside and outside the classroom.
Look again: students can review language from every lesson.
Practice: extra Reading, Writing, Listening, and Speaking practice. Plus extra video content that includes:
Interative video to practise the language from the Practical English lessons that follow the Rob and Jenny drama
Sound Bank videos offer students the unique opportunity to watch and listen to a clear model of the English sounds
Video listening activities integrated into each File.
Check your progress: students can test themselves, get instant feedback, and try an extra challenge.
Resources: All Student's Book audio, scripts, wordlists, dyslexia-friendly texts, and CEFR Language Portfolio.
The access card for Online Practice can be found at the back of the Student's Book.
Classroom Presentation Tool
The Student's Book Classroom Presentation Tool and Workbook Classroom Presentation Tool capture students' attention with full-screen activities, audio and video on screen.
Deliver the Student's Book on-screen via your interactive whiteboard, projector or classroom display device.
Launch activities straight from the page, and play audio and video at the touch of a button.
Use online or offline, on a tablet or computer, and your notes and web links will update across your devices.
Quick and easy set up on Oxford Learner's Bookshelf.
Student packs
Fully flexible learning for every situation. Whether your students are learning face-to-face, remotely, or a mixture of the two - there's a pack to suit your class.
Student Book with Online Practice
Student Digital Pack
Student Book with Digital Pack

Learn

Student Book (print)
✔
✔
Student Book e-book
✔
✔
Student Resources
✔
✔
✔

Practice

Workbook e-book
✔
✔
Online Practice (for students)
✔
✔
✔
Online Practice accessed via Access Code. Resources within Digital Packs accessed via
Oxford English Hub.
All components also sold separately. Workbook (print) available as a separate purchase.
Teacher packs
Both our teacher's packs provide everything you need to create flexible lessons that work for your students, no matter whether you are teaching face-to-face or remotely.
Teacher's Guide with Teacher's Resource Centre
Teacher Digital Pack

Teach

Teacher's Guide (print)
✔
Digital Teacher's Guide (PDF)
✔
✔
Teacher's Resources
✔
✔
Student Book Classroom Presentation Tool
✔

Set practice

Workbook Classroom Presentation Tool
✔
Online Practice (for teachers)
✔
✔

Assess

Assessment
✔
✔
All digital course materials and resources accessed via
Oxford English Hub.
For English File fourth edition Advanced Plus
(13)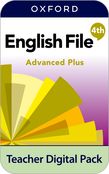 English File Advanced Plus Teacher Digital Pack
New Edition
978-0-19-475095-0
4 years' access to Teacher's Guide (PDF), Classroom Presentation Tools, Online P...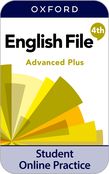 English File Advanced Plus Online Practice
978-0-19-406037-0