Hello
You can visit our worldwide website for our globally available teaching resources, or visit our local website for for products, events and materials for your area.
Please choose below:
Third Edition
Clive Oxenden, Christina Latham-Koenig, and Paul Seligson
"Just when you thought it couldn't get any better!" A new edition of the best-selling English File – the best way to get your students talking.
Language Level: Beginner to Advanced (A1 - C1)
Teaching hours: 80-120
A blend of completely new lessons, updated texts and activities, together with the refreshing and fine-tuning of some favourite lessons from New English File - English File third edition provides the right mix of language, motivation, and opportunity to get students talking.

English File third edition offers more support for teachers and students. Teacher's Book provides over 100 photocopiables to save preparation time, plus extra tips and ideas. Classroom Presentation Tool brings your classroom to life with the Student's Book and Workbook, on-screen and interactive.
Super-flexible package provides everything needed - for both inside and outside the classroom
Improved texts and listening that motivate students to talk
Four-skills syllabus with a clear focus on pronunciation - plus Grammar Bank exercises for practice and activation of grammar
'Real-world' In-The-Street interviews, Practical English motivating drama and documentary videos
Oxford Online Skills Program offers students targeted and motivating practice to improve reading, writing, listening and speaking. Teachers can also use our online Learning Management System to easily manage and measure student progress.
Progress tests for each File with clear signposting to additional related practice and reference
English File third edition is true to the English File formula: clearly presented language input in every File; interesting texts and topics that motivate students; activities and exercises that practise language in a context that is relevant to a busy adult's everyday life.

With new, easy-to-manage structure, fresh, contemporary topics, more listening and a brand new video filmed on location (London, New York) English File third edition supports teaching and learning better than ever.

To give teachers and students a 21st century learning experience English File third edition comes with brand new digital components: Classroom Presentation Tool for teachers: a digital resource that brings the classroom to life with interactive course materials - on interactive whiteboard, projectors or screen. All your digital teaching needs available online or offline, from your tablet or computer: complete Student's Book with audio, video answer keys and interactive activities; complete Workbook with audio and answer keys; plus pen and highlighters, focus, zoom and other built-in tools to make teaching even easier.
What's the best thing about English File. "The interesting topics discussed, the grammar exercises, the listening activities, the videos from the new versions...I've been teaching for 22 years and the English File books are the best ones I've ever worked with!
Melyssa Vaz, Teacher

"I have always enjoyed working with English File…and I think I always will!"
Marina Soares Nunes, Teacher

"One idea that came from my students was, every time I use the videos from the Practical English section, I get the students to act out the videos. They like learning the language in a fun way."
Alberto Costa, Teacher (for 27 years)

"Students have the chance to practice all skills in one lesson – obviously the teacher can emphasise one aspect or another, however, the skills are covered!"
Elaine de F. Andrade, Teacher

"With English File, all of the topics include something up to date."
Marina Soares Nunes, Teacher
e-Books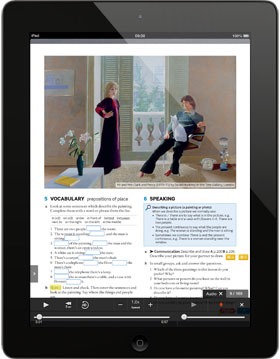 English File e-books offer all the content from the Student's Books and Workbooks with extra features to support your students' learning:
Watch video and complete interactive activities, all from the same page.
Slow down the audio to hear every word clearly.
Use the innovative 'listen, record and compare' feature to improve pronunciation.
Personalize learning: save audio or written notes anywhere on the page.
Help students check their progress with automatically marked activities in Revise and Check sections.
Available for both iPad and tablets for Android via the Oxford Learner's Bookshelf app
Bring your classroom to life and save preparation time!...
Classroom Presentation Tool

Imagine a world where the Student's Book and the Workbook come alive on the classroom wall - where you can play the audio and video, and launch activities straight from the page.
At the touch of a button, Classroom Presentation Tool gets your students talking by:
sharing in engaging, interactive activities
discussing points of grammar or building vocabulary
listening to audio and building dialogues on screen
watching video clips and acting out familiar situations
practising pronunciation, intonation, and stress patterns
checking and discussing homework exercises as a class
Online Skills
Oxford Online Skills Program provides support and development of all four language skills, providing effective practice framed within common and accessible themes and topics, mapped to the Common European Framework of Reference for Languages.
Step-by-step student support – Each learning module follows an Engage-Explore-Task-Reflect activity sequence to ensure that students practise and learn effectively on their own.
Aligned to the CEFR – Give your students practice at the level that's right for them, with self-check 'can-do' statements at the end of each module.
Media-rich – Motivate your students with compelling visual content including videos, interactive info-graphics and striking photography on culturally diverse topics.
Flexible – Reorder content and decide how and when you want to assign homework: ideal for differentiated learning.
Adaptable – Create your own new content to meet the needs of your students, including your own speaking and writing tasks, tests, discussions and live chat, and uploading videos, audio, or powerpoint presentations.
Measurable – Monitor your students' progress with a wide range of management tools.
The access code for Online Skills is in the Student's Book.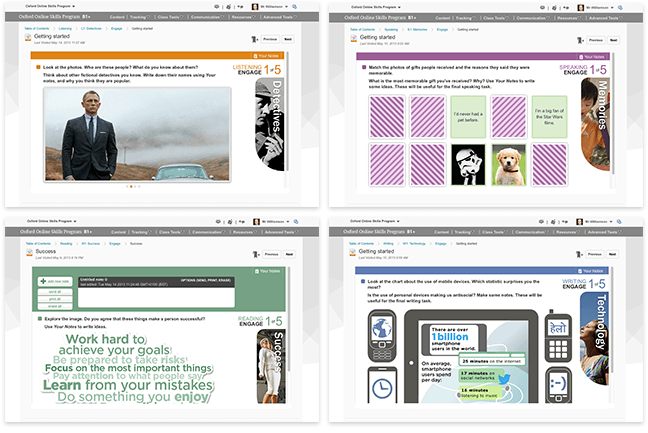 Improve your English pronunciation today with Say It: English Pronunciation app!
This app allows students to hear the Oxford model, see the soundwave, then record and compare their pronunciation. Instant, personalised audio-visual feedback will help students to identify precisely what they need to improve. It's quick, effective and fun to use.
Tap an illustration to hear individual sounds from the
English File
Sound Bank and connect tricky sounds to words and images, make learning easier.
Learn more about the Say It: English Pronunciation app for
iOS
and
Android
.