English File third edition Elementary Teacher's Book with Test and Assessment CD-ROM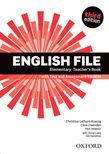 English File third edition Elementary Teacher's Book with Test and Assessment CD-ROM
Third Edition
| | |
| --- | --- |
| Format: | Mixed media format |
The English File Third Edition Teacher's Book offers a comprehensive walk-through guide to every lesson, in every unit of the English File Third Edition Student's Book, along with over 70 photocopiable activities.

The English File Teacher's Book package comes complete with a Test & Assessment CD-ROM, which includes a complete test for every File, an End-of-course Test, two Progress Tests, and a Quick Test for every File.
A blend of completely new lessons, updated texts and activities, together with the refreshing and fine-tuning of some favourite lessons from New English File - English File third edition provides the right mix of language, motivation, and opportunity to get students talking.

English File third edition offers more support for teachers and students. Teacher's Book provides over 100 photocopiables to save preparation time, plus extra tips and ideas. Classroom Presentation Tool brings your classroom to life with the Student's Book and Workbook, on-screen and interactive.
This pack includes:
Teacher's Book
Test and Assessment CD-ROM
Detailed lesson plans for all the lessons
An optional 'books closed' lead-in for every lesson
Extra idea suggestions for optional extra activities
Extra challenge suggestions for ways of exploiting the Student's Book material in a more challenging way - suitable for more advanced classes
Extra support suggestions for ways of adapting activities or exercises to make them work with weaker students
Extra activities are colour-coded so you can see at a glance what is core material and what is extra when you are planning and teaching your classes
All lesson plans include keys and complete audio scripts


English File third edition is true to the English File formula: clearly presented language input in every File; interesting texts and topics that motivate students; activities and exercises that practise language in a context that is relevant to a busy adult's everyday life.

With new, easy-to-manage structure, fresh, contemporary topics, more listening and a brand new video filmed on location (London, New York) English File third edition supports teaching and learning better than ever.

To give teachers and students a 21st century learning experience English File third edition comes with brand new digital components: Classroom Presentation Tool for teachers: a digital resource that brings the classroom to life with interactive course materials - on interactive whiteboard, projectors or screen. All your digital teaching needs available online or offline, from your tablet or computer: complete Student's Book with audio, video answer keys and interactive activities; complete Workbook with audio and answer keys; plus pen and highlighters, focus, zoom and other built-in tools to make teaching even easier.
A Quick Test for every File
A File test for every File covering Grammar, Vocabulary, Pronunciation, Reading and Listening
Two Progress Tests, and an End-of-course Test
A and B versions of every main test
Audio for every listening test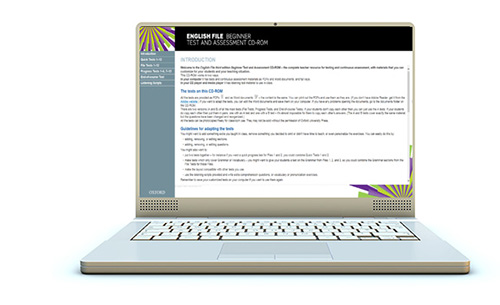 The best way to get your students talking