English File third edition Pre-intermediate Class DVD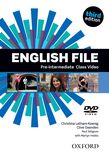 English File third edition Pre-intermediate Class DVD
The best way to get your students talking
Third Edition
Clive Oxenden, Christina Latham-Koenig, and Paul Seligson
A blend of completely new lessons, updated texts and activities, together with the refreshing and fine-tuning of some favourite lessons from New English File - English File Third Edition provides the right mix of language, motivation, and opportunity to get students talking.
This English File Third Edition Pre-intermediate Class DVD contains all the video material to accompany the English File Third Edition Pre-intermediate Student's Book.

Motivating and entertaining Practical English dramas teach high-frequency, everyday English, and enjoyable short documentary films extend the topics in the Student's Book. In-the-street interviews are filmed on location in New York, London and Oxford and give students the opportunity to watch and listen to real people using real English.
The videos provide a rich mix of authentic and engaging material and build confidence and motivation
Video content is filmed especially for English File and focuses on natural spoken language
Colloquial English interviews help students get used to listening to unscripted, authentic English and provides exposure to high-frequency colloquial phrases and idioms
Street interviews with people in the UK and USA give students the opportunity to listen to and understand authentic, spontaneous language and helps them deal with different speeds and accents
Enjoyable and informative short documentary films extend the topics in the Student's Book
English File third edition is true to the English File formula: clearly presented language input in every File; interesting texts and topics that motivate students; activities and exercises that practise language in a context that is relevant to a busy adult's everyday life.

With new, easy-to-manage structure, fresh, contemporary topics, more listening and a brand new video filmed on location (London, New York) English File third edition supports teaching and learning better than ever.

To give teachers and students a 21st century learning experience English File third edition comes with brand new digital components: Classroom Presentation Tool for teachers: a digital resource that brings the classroom to life with interactive course materials - on interactive whiteboard, projectors or screen. All your digital teaching needs available online or offline, from your tablet or computer: complete Student's Book with audio, video answer keys and interactive activities; complete Workbook with audio and answer keys; plus pen and highlighters, focus, zoom and other built-in tools to make teaching even easier.