Headway Advanced Workbook e-book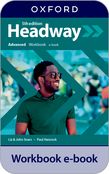 Headway Advanced Workbook e-book
Fifth Edition
Updated with new texts, topics and themes, Headway 5th edition provides fresh and relevant English instruction that is tailored to your students' needs.
ISBN:

978-0-19-483519-0

Licence Length:

24 months
Headway 5th edition provides fresh, relevant English instruction needed for success today.
The Workbook offers learners additional practice for every unit of the Student's Book, for homework or self-study.
The Workbook e-book comes to life with extra digital features to engage students and enhance their learning experience including audio and interactive activities with automatic marking. Students can study anytime, anywhere.
Provides additional activities for further practice that are specifically tailored to fit with the Student's Book content.
Includes extension activities with extra grammar and vocabulary exercises related to the unit topic to extend learning.
Boost your students' motivation to study – the Workbook e-book comes to life with extra digital features to engage students and enhance their learning experience: Complete interactive activities with automated marking; Listen to audio for authentic listening practice, slow it down for improved comprehension, and voice record to practice speaking and pronunciation; Add notes, use the pen and highlighter tool to annotate the page, and save voice recording; Easily find your way around the book using bookmarks, jump to page, and the search tool.
Encourage your students to study anytime, anywhere – ready to go activities for inside or outside the classroom, accessible on any device, both online and offline.
Connect your students to a world-famous dictionary – quickly look up the definitions of words and phrases from the Oxford Learner's Dictionaries with helpful pronunciation guidance, at the right level.
90% of teachers believe Headway has helped their students progress to the next level of study.* Its balanced methodology of vocabulary, grammar and integrated skills provides the right level of challenge for students.
Headway 5th edition listens to feedback from teachers and focusses on topics and activities that are relevant and useful to today's adult students, whilst retaining the trusted methodology teachers love.
Combining practical, real life content for today's students with flexible digital resources that are clearly linked to the Headway syllabus, the course ensures students are engaged and motivated for success.
* The Headway Oxford Impact study was conducted in January and February 2018. 170 teachers responded. Oxford Impact is a unique way of evaluating the impact that educational products and services from Oxford University Press have on teaching and learning.