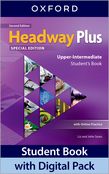 Hello
You can visit our worldwide website for our globally available teaching resources, or visit our local website for for products, events and materials for your area.
Please choose below:
Headway Plus Special Edition Second Edition Pre-Intermediate
With its proven methodology, Headway is the course you can always trust.
Second edition
Liz and John Soars
Join thousands of teachers around Saudi Arabia who have taught Headway Plus's perfectly-balanced grammar and skills syllabus in their University preparatory programs.
Language Level: Pre-Intermediate
The new edition provides preparatory teachers the same well-loved features and methodology with an extended digital and assessment package designed specifically for the needs of Saudi universities.
Student Book with Online Practice
Workbook
Audio CD
Teacher's Guide
Teacher's Resource Centre
Classroom Presentation Tool
The trusted Headway approach that teachers and learners trust
Created especially for the needs of the preparatory programme
The blended syllabus guides students through the Student's Book, Workbook, Classroom Presentation Tool and Online Practice.
New! Integration with Blackboard
New! Classroom Presentation Tool
Available from Beginner to Upper-Intermediate
For Headway Plus Special Edition Second Edition Pre-Intermediate
(5)