In English Elementary Student's Book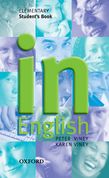 In English Elementary Student's Book
A pocket-sized, bright, friendly course that gives adults confidence.
ISBN:

978-0-19-434056-4

Pages:

240

Binding: Paperback
Dimensions: 216x134 mm
Grammar and core vocabulary are constantly practised and revised.
Communicative approach, with role-plays and dialogues.
The pocket-sized format means convenience and easy reference on the go!
3-in-1 Practice Pack contains Vocabulary and Grammar Practice Books, plus FREE Audio CD.
The Practice Pack includes picture dictionary, word games, test-yourself sections, grammar exercises, and Everyday English dialogues to learn.
PLUS test yourself with the ingenious red plastic square! It makes words 'disappear' so you can remember and say.
This accessible course teaches the essential language for Starter, Elementary and Pre-Intermediate students. The gentle pace and practical approach make it ideal for less-confident learners. It breaks language down into short chunks, which are easier to remember. It also provides plenty of practice activities to build students' confidence and give a real sense of progress.