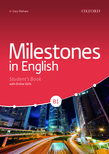 Hello
You can visit our worldwide website for our globally available teaching resources, or visit our local website for for products, events and materials for your area.
Please choose below:
Milestones in English B1
Reach your higher education goals
Sarah Philpot, Lindsay Warwick, Gary Pathare, Lara Storton
Reviewed by teachers and shaped by language learning experts, Milestones in English is specially tailored to help students succeed in higher education.
Milestones in English is a 5-level course created for Turkey and the Middle East that teaches the language and skills required for academic study. The course is informed by academic research and expert input, including vocabulary based on the Oxford 3000™, an innovative approach to skills development and a study skills strand developed in consultation with the University of Oxford Department of Education.
Student's Book with Online Skills
Workbook
iTools (USB)
Five levels benchmarked to the CEFR (Common European Framework of Reference) so that progress is aligned to internationally recognized outcomes
Lesson goals and learning outcomes based on can-do statements focus students on the language and skills they need to succeed
Bottom-up approach to reading and listening provides students with transferable skills that they can use to understand a variety of texts
Study skills help students become independent learners
Vocabulary syllabus based on the Oxford 3000™ and informed by the Academic Word List teaches the most relevant words for academic study
Online academic skills practice aligned to the CEFR provides additional support outside the classroom
Relevant, content-rich texts The Milestones in English Student's Book has been reviewed by higher education instructors to ensure that the material is relevant, interesting and culturally appropriate. Fresh, stimulating content provides input for language and skills development. The texts are based on authentic sources, and adapted to suit students' language level. Innovative approach to reading and listening The Micro skills strand of Milestones in English practises decoding skills – getting students to identify key features of writing or speech at a word or sentence level e.g. recognizing key words from intonation and stress. These skills are transferable and will help students to understand the reading and listening texts that they will study in the future. Academic writing The step-by-step writing process guides students from sentence to paragraph to essay, enabling students to develop the writing skills they will need for academic study. This staged process focuses on planning and editing as well as drafting, and encourages students to work together to review and revise their work, building confidence. The writing syllabus was developed in consultation with Mark Searle: Focus on speaking Opportunities for speaking are integrated into every lesson, and there is a specific focus on speaking in lesson 5 of every unit. Videos provide models for successful speaking. Study skills promote independent learning The study skills in Milestones are not just presented – they are also practised. For example, students learn techniques for looking up and recording vocabulary from a dictionary. These skills equip students to become independent learners.
One key aspect of
Milestones
is its
flexible approach,
enabling you to choose the materials that best support the individual needs of your class. That's why
Milestones
includes a range of supporting materials to supplement and extend your teaching.
Teacher's Notes provides full support for teachers and extra ideas for extending the lesson, with unit-by-unit teaching notes, answer keys and audio scripts
Specialist essays by Milestones authors and experts in language learning offer additional insight into the course methodology
Ready-made worksheets provide extra grammar, vocabulary and writing practice for every unit
Literacy worksheets at A1 level support beginner students by practising writing and understanding English letters and sounds
Assessment program includes unit tests, four progress tests for every level, and an end-of-course test for every level
Marking schemes for writing and speaking provide a framework for assessing these skills
iTools classroom presentation tool
Full Student's Book, with embedded audio, video, answer keys and interactive tools to engage the whole class
All teacher resources in one place, including teacher's notes, additional worksheets and all assessment materials
Delivered via USB flash drive
Teachers can also access all teacher resources except tests on
Oxford Online Skills Program Academic.
The Student's Book includes access to the
Oxford Online Skills Program Academic
, with extra resources exclusive to
Milestones in English
.
Oxford Online Skills Program Academic
provides additional skills practice that goes beyond the coursebook, enabling students to extend their learning.
For students
20 hours of academic skills practice per level, benchmarked to the CEFR
Student's Book and Workbook audio
All the videos from the course
For teachers
Access to classroom management and teacher tools, including the gradebook
Teacher's material, including unit-by-unit teaching notes and answer keys
Grammar, vocabulary and writing worksheets
Guide to using Oxford Online Skills Program Academic alongside Milestones in English
Find out more about the
Oxford Online Skills Program.
You may also be interested in...