Network 4 Workbook Classroom Presentation Tool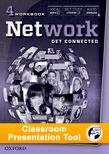 Network 4 Workbook Classroom Presentation Tool
Five-level general English course that harnesses the power of social networking to help students learn English.
Network uses social networking to link learners for common goals - shared language success and professional growth.

Bring your workbook to life in the classroom with the Workbook Classroom Presentation Tool. Simply present your learning resources on screen for highly engaging lessons including audio, video and interactive activities.
Deliver heads-up lessons - bring your coursebook to life in the classroom. Simply present your learning resources on screen for highly engaging lessons either face to face or online.
Create an interactive learning experience - instantly play audio and video, launch fun activities and games, expand images for discussion and show answers, all from the front of the class.
Save time and make lesson planning easy - quickly navigate to your ready to go lessons, add personalised notes and use the pen and highlighter tool to annotate the page. Prepare your lessons anywhere on any device, even when you are offline.
Network is a general American English course that's easy to teach with and fun to learn from. The series uses social networking to teach English, providing authentic, meaningful skills practice to help students get more practice communicating, and to develop important social media skills.

Network's one lesson per page approach is clear, straightforward, and flexible. You can teach lessons straight off the page with minimum preparation. In addition, the "Now I can" statements at the end of each page enable you to benchmark learning outcomes against international standards.

Network features a variety of networking tasks to develop students' English skills in school, life, and at work. The "Your Network" tasks at the end of each unit invite students to develop their communication skills both in class and online. Get Connected lessons build social media skills connected to social media, such as creating an online profile and blogging in English. Functional language is presented in the context of a fun photo story featuring characters that use networking to solve problems.

Original BBC Motion Gallery video content broadens students' horizons, and authentic documentaries develop real-world listening skills.

Online Practice lets you assign extra practice so students can improve their vocabulary, grammar, speaking, and listening skills outside class.
The licence period for this product is perpetual.
The use of this product is subject to the Oxford Learners Bookshelf
terms and conditions