New English File Pre-Intermediate StudyLink Video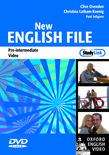 New English File Pre-Intermediate StudyLink Video
Six-level general English course for adults
Four-skills English course with fun lessons, digital resources, and strong online support - loved by students and teachers at all levels.
The Pre-Intermediate DVD video is for you to use with the Practical English lessons in the Student's Book.

Practical English looks at high frequency phrases, what to say in typical situations, and how to overcome travel problems.

It uses a story with two main characters to teach the language, and that story is on the DVD.
Fully-integrated clips for the Practical English lessons in the Student's Book