Hello
You can visit our worldwide website for our globally available teaching resources, or visit our local website for for products, events and materials for your area.
Please choose below:
New Headway Pre-Intermediate Fourth Edition
The world's most trusted English course
Fourth Edition
The world's best-selling English course - a perfectly-balanced syllabus with a strong grammar focus, and full support at all six levels.
Part of: New Headway
Language Level: Pre-Intermediate (A2-B1)
Headway's trusted methodology combines solid grammar and practice, vocabulary development, and integrated skills with communicative role-plays and personalization.

Authentic material from a variety of sources enables students to see new language in context, and a range of comprehension tasks, language and vocabulary exercises, and extension activities practise the four skills. 'Everyday English' and 'Spoken grammar' sections practise real-world speaking skills, and a writing section for each unit at the back of the book provides models for students to analyse and imitate.
New and updated texts and topics
Integrated skills syllabus with a clear grammar focus
Classroom Presentation Tool – deliver heads-up lessons by bringing easy-to-use digital features to the front of the classroom.
Full teacher support – resources, photocopiables, tests and more - online and in print
With the Fourth edition of the best-selling course book you can now experience the trusted
Headway
methodology using the latest in classroom technology:
Classroom Presentation Tool
brings the Fourth edition Student's Book and Workbook alive on the classroom wall, complete with interactive exercises, audio and video. The built-in tools like focus, pens and highlighter give you and your students a truly interactive teaching and learning experience.
Audio and Video
Student Book and Workbook audio for extra practice, plus Student Boook video are now available on the Headway
Student website.
e-Books
Enhance your students' learning experience with the Headway fourth edition e-books offering all Student's Book content with extra interactive features.
Personalize learning: save audio or written notes anywhere on the page.
Slow down the built-in audio to hear every word clearly.
Improve pronunciation with the listen, record and compare feature.
Help students check their progress with automatically marked exercises.
Available for iPad and tablets for Android via the Oxford Learner's Bookshelf app.
Classroom Presentation Tool
Headway Classroom Presentation Tool gives you complete flexibility when you want digital resources for the interactive classroom.
Complete Student's Book plus audio and answer keys.
Complete Workbook plus audio and answer keys.
Scripts to accompany audio and video activities.
Built-in tools personalize interactive lessons
Audio and Video
Student Book and Workbook audio for extra practice, plus Student Boook video are now available on the Headway
Student website.
Oxford Online Skills Program
provides support and development of
all four language skills
, providing effective practice framed within common and accessible themes and topics, mapped to the Common European Framework of Reference for Languages.
Step-by-step student support – Each learning module follows an Engage-Explore-Task-Reflect activity sequence to ensure that students practise and learn effectively on their own.
Aligned to the CEFR – Give your students practice at the level that's right for them, with self-check 'Can-do' statements at the end of each module.
Media-rich – Motivate your students with compelling visual content including videos, interactive info-graphics and striking photography on culturally diverse topics.
Flexible – Reorder content and decide how and when you want to assign homework: ideal for differentiated learning.
Adaptable – Create your own new content to meet the needs of your students, including your own speaking and writing tasks, tests, discussions and live chat, and uploading videos, audio, or PowerPoint presentations.
Measurable – Monitor your students' progress with a wide range of management tools.
The access code for Online Skills is in the Student's Book.
For New Headway Pre-Intermediate Fourth Edition
(14)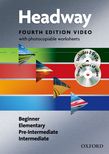 Video and Worksheets Pack
978-0-19-477076-7
A new digital era for the world's most trusted English course

Student's Book A
978-0-19-476956-3
A new digital era for the world's most trusted English course

Student's Book B
978-0-19-476957-0
A new digital era for the world's most trusted English course