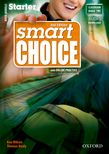 Hello
You can visit our worldwide website for our globally available teaching resources, or visit our local website for for products, events and materials for your area.
Please choose below:
Smart Choice Starter
Second edition
Ken Wilson and Thomas Healy
Smart Choice Second Edition is a four-skills American English course with personalized speaking on every page, plus a range of digital components to use in class and at home.
Part of: Smart Choice
Language Level: Beginner to Intermediate (A1 to B1)
Smart Choice Second Edition makes teaching easier for you. It's flexible.

You can teach lessons exactly as they are, straight off the page.

More speaking and listening activities offer new opportunities for extra challenge and expansion.

New iTools interactive whiteboard software and online practice enhances and extends your lessons.
Student Book with Online Practice
Multi-Pack Split Editions with Online Practice
Workbook
Teacher's Book with Testing Program CD-ROM
Class Audio CDs
iTools with Click & Change Library and Video
Guided conversation practice on every page
New Listening Plus expansion task in each unit
New CEFR-correlated unit goals
New Online Practice, accessed from the Student Book, with Audio Download Center
New iTools interactive whiteboard software
New Testing Program CD-ROM available in the Teacher's Book
New iTools
Interactive whiteboard with video, Click & Change worksheets, image library, and PowerPoint™ slides.
New Online Practice
40 hours of extra language, skills and video practice per level, with full accountability reporting for teachers.
New video program
Bring the dialogs from the Conversation lessons to life in class and for homework.
New Audio Download Center
Anytime, anywhere listening practice for students.
New Testing Program CD-ROM
Ready-to-print and editable progress tests, mid-term tests, and final tests with audio and answer keys.
iTools version 2.0 is Oxford's latest interactive whiteboard software that can also be used with a laptop and projector. It includes:
Book-on-screen design with zoom, writing, and classroom management tools.
Audio, video, PowerPoint™, answer keys, and audio scripts at your fingertips.
Click & Change customizable worksheets, image library, and PowerPoint™ presentations.
Smart Choice Second Edition Online Practice provides 40 hours of extra practice per level. It features:
10 new activities for every unit, including video comprehension, language practice, and conversation practice.
Automated scoring and feedback with progress reports for students, teachers, and administrators.
Access to the Audio Download Center where students can download selected Student Book listening tracks for anytime, anywhere practice.
The all-new video program brings the Student Book Conversation dialogs to life.
Play the video in class using iTools.
Have students watch the video for homework, and assign more video activities via the Online Practice.
For Smart Choice Starter
(6)