Smart Choice Online Practice - Access Code

Smart Choice Online Practice - Access Code
Third Edition
Four-skills course for adult and young adult learners looking to improve their ability to communicate in English. Now with activities for smartphones to keep students learning on the move!
Students have everything they need for success in the classroom as well as access to On the Move activities and Online Practice to keep learning outside class, wherever they are!
The trusted Smart Choice 'one page=one lesson' approach, providing the perfect balance of challenge and support.
All-new speaking pages to strengthen fluency through fun games and activities.
Smart Choice On The Move activities and games, optimized for use on smartphones, strengthen vocabulary and grammar and provide instant scoring.
Smart Choice Online Practice provides up to 30 hours of additional course-correlated practice activities and the chance to keep communicating outside of class with a Discussion Board.
The Workbook section provides additional self-study practice for all grammar and vocabulary covered plus extra reading, listening, and pronunciation practice.
Flexible one-page lessons make prep time easier and lead to successful and focused class time.
Speaking pages at the end of every unit increase students' enjoyment of communicating in English and strengthen fluency.
On The Move activities, optimized for smartphones, allow students to practice vocabulary and grammar wherever they are.
With the Media Center students can download or stream all course video and audio content - anytime, anywhere.
Online Practice offers additional practice for all Student Book units that you can assign and track - up to 30 hours per level. Email functionality and a Discussion Board mean that you can communicate with students outside of class.
The Online Practice Testing Program provides interactive, auto-scored Progress Tests as well as print-and-go unit, midterm and final tests that teachers can customize.
The Classroom Presentation Tool contains all of the Student Book content to present on screen for interactive lessons, with easy-to-use digital features.
Workbook with additional practice of all Student Book vocabulary and grammar plus extra reading, listening, and pronunciation practice to strengthen all language skills.
Welcome to
Smart Choice
Third Edition - with flexible one-page lessons and more ways than ever to keep students learning outside of the classroom, your adult and young adult students can keep learning wherever they are.
Success on the page
Each
Smart Choice
unit follows the same trusted "one lesson = one page" approach, making it simple to teach and learn. A perfect balance of challenge and support gradually builds students' confidence and lets them have real success communicating in English. Students learn best from their own experiences, and Smart Choice encourages them to bring ideas and opinions in to class with personalization activities on every page.
Progress on the move
How much time do your students spend on their smartphones, tablets and computers? Imagine if they could use this time to improve their English. With Smart Choice On The Move and Online Practice, both included as part of the Student Book or Student Book/Workbook Multi-Pack, that's now a reality.
On The Move, optimized for smart devices, provides 5 fun practice activities for each Student Book Unit. Instant scoring and feedback challenge students to improve their score
Online Practice, for use on a PC, offers students 30 hours of additional course correlated practice and keeps students communicating outside of class with an online Discussion Board.
Students can download or stream all the Student Book audio and video and the Workbook self-study listening to review anytime, anywhere.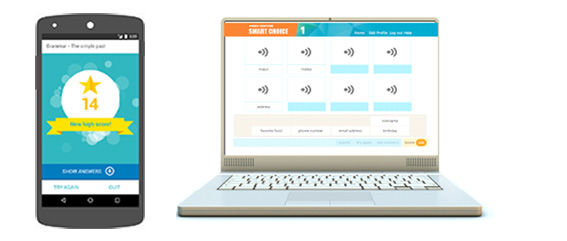 Choose
Smart Choice
for smart learning - on the page and on the move.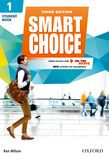 Four-level general English course for adults and young adults