Step Forward Level 5 Student Book e-book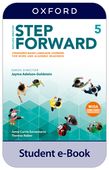 Step Forward Level 5 Student Book e-book
Second Edition
ISBN:

978-0-19-483386-8

Price: USD 18.00 + Sales Tax
The Step Forward Student Book incorporates all of the skills learners need to pursue a career or educational program in the USA.

The one-page 'At work' sections in every unit build the essential skills students need in the workplace. The course also features 'Everyday Conversation' lessons, which focus on the functional English that students need in the real world.

The Student Book e-book comes to life with extra digital features to engage students and enhance their learning experience including audio, video and interactive activities with automatic marking. Students can study anytime, anywhere.
Designed to meet the needs of multilevel classes, the full suite of easy-to-use resources in Step Forward include tests, lesson plans, multilevel activities and opportunities for self-assessment.
Step-by-step writing instruction offers clear models and strategies for adults learning English as a foreign language for life, college or career.
Twelve thematic units in the book focus on everyday adult topics, each with six lessons integrating communication, workplace and academic skills, along with language strategies for accuracy and fluency.
Content is appropriate for low-beginning to low-intermediate English as a second language (ESL) learners and English language teaching (ELT) professionals.
Boost your student's motivation to study – the Student Book e-book comes to life with extra digital features to engage students and enhance their learning experience: Watch video straight from the page and complete interactive activities with automated marking; Listen to audio for authentic listening practice, slow it down for improved comprehension, and voice record to practice speaking and pronunciation; Add notes, use the pen and highlighter tool to annotate the page, and save voice recordings; Easily navigate using bookmarks, jump to page, and the search tool.
Encourage your students to study anytime, anywhere – ready to go activities for inside or outside the classroom, accessible on any device, both online and offline.
Connect your students to a world-famous dictionary – quickly look up the definitions of words and phrases from the Oxford Learner's Dictionaries with helpful pronunciation guidance, at the right level.
The licence period for this product is perpetual.
The use of this product is subject to the Oxford Learners Bookshelf
terms and conditions
.

A course equipping adult learners with the English that they need to work or study in the USA.