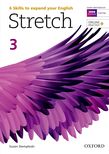 Hello
You can visit our worldwide website for our globally available teaching resources, or visit our local website for for products, events and materials for your area.
Please choose below:
Stretch Three
6 Skills to expand your English
First edition
Susan Stempleski
When you stretch to reach new goals, you need support. Stretch provides a comprehensive support system and a unique 6 skills approach to help students meet their personal, academic and professional goals.
Stretch is a four-level integrated skills course that supports students to reach their full potential.

In addition to explicit and supportive instruction in listening, speaking, reading and writing, Stretch offers a focus on practical viewing and presenting skills.

Presenting skills instill confidence in public speaking

Viewing skills use BBC Worldwide Learning videos to teach media literacy for 21st-century success.

The skills practiced in Stretch are chosen to reflect the CEFR can-do statements and help students achieve success on standardized tests such as TOEIC®.
Student Book with Online Practice access card
Workbook
Multi-Packs A and B with Online Practice access card
Teacher Resource Pack (Teacher's Book with iTools Online access card and Written & Oral Tests)
DVD
Class Audio CD
Classroom Presentation Tool
Presenting skills instill confidence in public speaking
Viewing skills teach media literacy for 21st-century success
BBC Worldwide Learning videos engage and motivate students with rich, contemporary content
Skills Snapshots ensure transparent and transferable learning outcomes
Online Practice offers additional skill instruction and customizable practice that you can assign and track – up to 40 hours per level
The Classroom Presentation Tool transforms the Student Book and Workbook into a media-rich tool to maximize heads-up learning.
The Testing Program offers a variety of written and oral tests, preparing students for standardized tests.
Multi-Packs for teachers with fewer contact hours combine 50% of the Student Book with 50% of the Workbook
Stretch
is a four-level, outcome-based, skills-driven series. It has a supportive 6 skills approach and extensive range of print and online material to help both students and teachers reach their goals.
With Stretch:
Students can…
Build confidence in listening, speaking, reading and writing with scaffolded and supportive skill instruction on every page.
Develop viewing skills for language success with engaging BBC Worldwide Learning videos. Stretch focuses on viewing skills, such as interpreting facial expressions, focusing on visuals and identifying facts and opinions.
Practice presenting to become confident public speakers. The dedicated presentation skills strand gives students the opportunity to develop presenting skills in a friendly and safe environment.
Extend learning outside of the classroom. Online Practice offers further skill instruction as well as 120 activities per level. With automatic grading and feedback, students can go online to improve their English anytime, anywhere.
Teachers can…


Deliver heads-up lessons with the Classroom Presentation Tool. Show the Student Book and the Workbook on-screen during lessons to create engaging lessons for a broad range of learning styles.
Track and analyze students' progress. Stretch Online Practice is supported by a powerful Learning Management System that allows teachers to track students' progress, analyze their results, and report on progress.
Test students' ability in all skills. The Testing Program, delivered on iTools Online, contains a range of oral tests and written tests for continual and final assessment.
Save time planning lessons. Packed with further skill instruction, teaching tips, extra ideas and alternative activities, the Teacher's Book supports teachers to plan personalized lessons for each class.
Find out
how the Stretch Teacher's Book package saves you time and supports you to create an interactive classroom environment with this short introduction.
Find out more from Susan Stempleski (
Stretch
author) and Ben Shearon (
Stretch
Presenting Skills Consultant).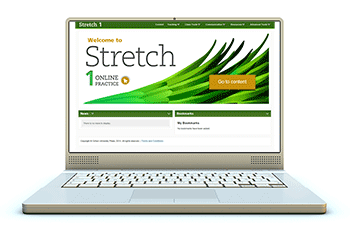 Stretch Online Practice
Expand your students' English outside of class with:
120 all-new practice rich activities per level
Further skill instruction in all 6 skills
A powerful Learning Management System so that you can track and analyze student progress
Find out more with this short introduction