Trio Listening and Speaking Level 3 Teacher's Online Practice Pack with Classroom Presentation Tool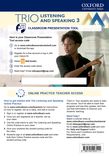 Trio Listening and Speaking Level 3 Teacher's Online Practice Pack with Classroom Presentation Tool
Building Better Communicators...From the Beginning
Daniel Hamlin
| | |
| --- | --- |
| Format: | Mixed media format |
Trio Listening and Speaking is a three-level course that helps beginner English students develop their listening and speaking skills through step-by-step instruction.

Promote interaction and discussion with the Classroom Presentation Tool with on-screen Class Book for 'heads-up learning ', and integrated audio, video, and answers.

Classroom Presentation Tool is available on the Oxford Learner 's Bookshelf.
Part of: Trio Series
Language Level: Beginner - Intermediate (A1-B1)
Trio Listening and Speaking creates academic success through gradual development of key listening and speaking techniques. Carefully staged speaking tasks and a focus on pronunciation builds students' confidence in oral production, while 'Conversation' and 'Academic Listening' sections prepare learners for listening and speaking in everyday situations and academic life.
Readiness Units teach the fundamentals of English to prepare students for success
Develops practical listening skills with conversation and academic listening practice
Creates confident speakers with pronunciation practice and carefully staged speaking tasks
Sounds of English feature provides sound-symbol decoding practice to help improve speaking and listening comprehension
Vocabulary is introduced in context and is built from the Oxford 2000 list of keywords, the 2,000 most important and useful words to learn
Trio Listening and Speaking prepares students for academic success by introducing skills development from the beginning.

Readiness Unit

For added flexibility, each level of Trio Listening and Speaking begins with an optional Readiness Unit to provide fundamental English tools for beginning students.

Vocabulary based on the Oxford 2000 keywords

Trio Listening and Speaking's vocabulary is based on the 2,000 most important and useful words to learn at the early stages of language learning.

The combination of academic topics and controlled vocabulary based on the Oxford 2000 word list makes the content in Trio Listening and Speaking approachable for low-level learners.

Each chapter begins by introducing Oxford 2000 vocabulary. It contextualizes the vocabulary within listening texts, while vocabulary strategies help students to understand the words in use.

Develops practical speaking and listening skills

Conversation and Academic Listening prepare learners for everyday situations and academic life creating confident speakers.

Listening Strategy boxes present information and techniques to help students understand ways in which English speakers manage a conversation. For example, how a speaker expresses pauses, and encourages the person they are talking with.

Sounds of English improve understanding of how English is really spoken

The 'Sounds of English' boxes present information on: recognizing and producing correct stress and intonation at word and sentence level. Sound-symbol decoding is an important part of the teaching approach as it encourages students to listen, notice, and learn to recognize the form in natural speech e.g. 'Do you' = 'Duya'.

Motivating Vocabulary and Grammar Chants help students internalize the target grammar structure and vocabulary for greater accuracy and fluency.

Essential online practice
Trio Listening and Speaking Online Practice provides multiple opportunities for skills practice and acquisition—beyond the classroom and beyond the page.

Each unit of Trio Listening and Speaking is accompanied by a variety of automatically-graded activities. Students' progress is recorded, tracked, and fed back to the instructor.
Trio Listening and Speaking Online Practice is matched to the course material to enhance students ' learning, extending it beyond the classroom.
Online practice resources for students:
63 activities/20 hours of practice per level
Vocabulary, listening strategy, pronunciation and speaking tasks
Vocabulary & Grammar Chant audio and Chant scripts
Student Book audio
Online practice resources for teachers:
Customizable tests
Test answer keys
You can access Trio Listening and Speaking Online Practice at:
www.oxfordlearn.com

Trio is a three-level series that builds the skills students need to communicate in an academic context from the beginning.