Wide Angle Level 3 Teacher's Guide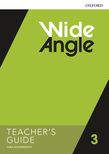 Wide Angle Level 3 Teacher's Guide
A six-level American English course that empowers adult learners to join any conversation, and say the right thing at the right time.
ISBN:

978-0-19-451114-8

Pages:

192

Binding: Paperback
Dimensions: 297x210 mm
Wide Angle is the course that helps your adult learners to uncover and master the hidden rules of English, so when it comes to communicating in the real world, they know what to say and how to say it.

The Teacher's Guide provides additional support to teachers for every unit of the Student Book.
Step-by-step task instructions and teaching tips.
Answer keys for all activities as well as audio and video scripts
Achievable Real-World Goals for each unit.
Additional background information on Blink photographers and discussion questions for unit photographs.
Creative extra practice activities to enhance lessons.
Real-World English Strategies with background on cultural and pragmatics issues, and More to Say... boxes for extended pronunciation practice.
English for the real world

'English for Real' lessons equip students with the tools to uncover and master the hidden rules of English, by guiding them on how to respond appropriately in everyday situations.

Videos with the Wide Angle characters encourage learners to think about how to adapt language for different situations, activities guide them to understand and identify differences in language and behavior, and interactive video activities help them to put it into practice. Here students go online to record their response to a situation with the Wide Angle characters. They can play-back the conversation, record it again to improve their response, or send it to you for feedback. So when it comes to responding to situations in the real world, your students know what to say and how to say it.

Content from the real world

Wide Angle brings topics to life through vibrant photographs from world-renowned photographers. Each unit opens with a photo, thought-provoking questions, and a 'Real-World Goal' to inspire students to apply the learning to their own lives. Video interviews with the photographers give students unique insights into the story behind the photo, and provide them with real language models to follow.

Supported by a comprehensive syllabus

Every level includes reading texts or listening material from Oxford Reference – a trusted source of over two million academic texts, to give your students authentic learning materials with real vocabulary. Students using Levels 4, 5 and 6 can explore even more content and look up topics of interest with their access to the Oxford Reference digital platform.

The vocabulary in Wide Angle is based on the Oxford 3000™, a list of the most important words to learn in English. Levels 5 and 6 also feature vocabulary from the Oxford 5000™ – an expanded word list for advanced learners of English. Every word in the Oxford 3000™ and Oxford 5000™ is aligned to the Common European Framework of Reference (CEFR), guiding students on the words they should know at each level.

Every unit focuses on developing all four skills, as well as a learner's grammar, vocabulary, and pronunciation. Skills boxes focus students' attention and give them practical information to take away and use outside of the classroom, and 'Grammar in Context' boxes present the grammar on the page at the right point in a student's learning. Students go online to review the skills taught in every lesson, to practice their grammar and vocabulary, and to access all the course audio and video material.



A six-level American English course that teaches English for the real world.