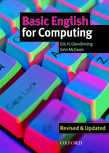 Hello
You can visit our worldwide website for our globally available teaching resources, or visit our local website for for products, events and materials for your area.
Please choose below:
Basic English for Computing, Revised Edition
Eric H. Glendinning and John McEwan
A fully revised and updated edition of this popular low-level course.
A topic-centred course that covers key computing functions and develops learners' competence in all four skills.
Graded specialist content combined with key grammar, functional language, and subject-specific lexis.
Simple, authentic texts and diagrams present up-to-date computing content in an accessible way.
Tasks encourage learners to combine their subject knowledge with their growing knowledge of English.
Glossary of current computing terms, abbreviations, and symbols.
Teacher's Book provides full support for the non-specialist, with background information on computing content, and answer key.