Oxford EAP Elementary/A2 Student's Book e-book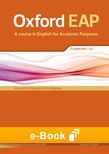 Price:
GBP 49.99
+ Sales Tax
Oxford EAP Elementary/A2 Student's Book e-book
A brand new EAP course from Oxford offering an integrated approach to teaching English for Academic Purposes and authentic texts from Oxford textbooks.
ISBN:

978-0-19-483794-1

Price: GBP 49.99 + Sales Tax
Oxford EAP develops the essential skills and academic language for learners who are preparing to study in English at university level, from foundation courses to postgraduate research.

The Student's Book e-book comes to life with extra digital features to engage students and enhance their learning experience including audio, video and interactive activities with automatic marking. Students can study anytime, anywhere.
Authentic academic content using extracts from Oxford textbooks
Integrated skills and academic language
Video-based lecture extracts to help prepare students for the university experience
Progressive coverage of all four skills in an academic context
Accessible and user-friendly approach
Boost your students' motivation to study - the Student's Book e-book comes to life with extra digital features to engage students and enhance their learning experience: Watch video straight from the page and complete interactive activities with automated marking; Listen to audio for authentic listening practice, slow it down for improved comprehension, and voice record to practice speaking and pronunciation; Add notes, use the pen and highlighter tool to annotate the page, and save voice recordings; Easily navigate using bookmarks, jump to page, and the search tool.
Encourage your students to study anytime, anywhere - ready to go activities for inside or outside the classroom, accessible on any device, both online and offline.
Connect your students to a world-famous dictionary – quickly look up the definitions of words and phrases from the Oxford Learner's Dictionaries with helpful pronunciation guidance, at the right level.
Oxford EAP prepares learners to study effectively in English at university level, whatever their chosen subject.

The course integrates the four main skills and academic language, and features authentic texts from academic and higher education books published by Oxford University Press.

The accompanying DVD-ROM contains both video and audio content, including extracts from lectures, student presentations, and seminar discussions.

Oxford EAP also provides practical help in developing essential skills for academic study, such as critical thinking, effective note-taking, citation and referencing, summarizing and paraphrasing, and avoiding plagiarism. Learners are encouraged to study independently, and to apply the course content to their chosen discipline.

Oxford EAP is accompanied by a Teacher's Handbook with extensive methodology notes, ideas for additional activities, and full answers to all tasks.

Oxford Grammar for EAP is ideal for use with the Oxford EAP series.
The licence period for this product is perpetual.
The use of this product is subject to the Oxford Learners Bookshelf
terms and conditions
.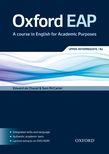 Skills and language for academic study