Oxford EAP Pre-Intermediate/B1 Teacher's Book, DVD and Audio CD Pack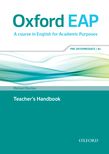 Oxford EAP Pre-Intermediate/B1 Teacher's Book, DVD and Audio CD Pack
| | |
| --- | --- |
| Format: | Mixed media format |
A brand new EAP course from Oxford offering an integrated approach to teaching English for Academic Purposes and authentic texts from Oxford textbooks.
Oxford EAP develops the essential skills and academic language for learners who are preparing to study in English at university level, from foundation courses to postgraduate research.

With authentic content from Oxford textbooks and videos of lecture extracts, Oxford EAP is an ideal course for learners from a wide range of disciplines. Its clear structure and user-friendly approach make it an ideal resource for experienced EAP tutors as well as teachers who are starting out in the field.
B1 level features more staging and shorter units, to provide extra support for lower-level students
Authentic academic content using extracts from Oxford textbooks
Integrated skills and academic language
Video-based lecture extracts to help prepare students for the university experience
Progressive coverage of all four skills in an academic context
Accessible and user-friendly approach
Teacher's Handbook with comprehensive notes and ideas
The needs of teachers and learners of English for Academic Purposes differ across institutions, levels and subject areas. Oxford EAP provides a course that is inclusive and international with a strong focus on the core skills needed for academic study, catering for the needs of EAP teachers and students across the globe.
The modular structure of the course allows tutors and students the flexibility to adapt the material to their own needs, which makes it suitable for use on pre-sessional courses, as well as on in-sessional language support programmes.
B1 level features more staging and shorter units, to provide extra support for lower-level students.
Authentic academic source material from Oxford textbooks.
A practical and straightforward best-practice approach that inspires confidence in both tutors and students.
Progressive development of key academic skills, including reading academic texts, video-based listening, academic writing, audio and video based speaking tasks, study skills and research techniques.
Unit themes appealing to a wide range of learners, whatever their subject of study.
Modular unit structure, customisable to suit different course lengths and priorities.
Academic language integrated with skills work.
Support for non-specialist teachers with methodological notes and introduction to teaching EAP in the Teacher's Handbook.
Attractive, modern design combining the best features of academic and general English course books.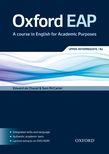 Skills and language for academic study