Oxford EAP Advanced Student's Book Classroom Presentation Tool

Price:
GBP 116.66
+ Sales Tax
Oxford EAP Advanced Student's Book Classroom Presentation Tool
A brand new EAP course from Oxford offering an integrated approach to teaching English for Academic Purposes and authentic texts from Oxford textbooks.
ISBN:

978-0-19-407586-2

Price: GBP 116.66 + Sales Tax
Oxford EAP develops the essential skills and academic language for learners who are preparing to study in English at university level, from foundation courses to postgraduate research.

Bring your coursebook to life in the classroom with the Student's Book Classroom Presentation Tool. Simply present your learning resources on screen for highly engaging lessons including audio, video and interactive activities.
Deliver heads-up lessons - bring your coursebook to life in the classroom. Simply present your learning resources on screen for highly engaging lessons either face to face or online.

Create an interactive learning experience - instantly play audio and video, launch fun activities and games, expand images for discussion and show answers, all from the front of the class.

Save time and make lesson planning easy - quickly navigate to your ready to go lessons, add personalised notes and use the pen and highlighter tool to annotate the page. Prepare your lessons anywhere on any device, even when you are offline.

The needs of teachers and learners of English for Academic Purposes differ across institutions, levels and subject areas. Oxford EAP provides a course that is inclusive and international with a strong focus on the core skills needed for academic study, catering for the needs of EAP teachers and students across the globe.
The modular structure of the course allows tutors and students the flexibility to adapt the material to their own needs, which makes it suitable for use on pre-sessional courses, as well as on in-sessional language support programmes.
Authentic academic source material from Oxford textbooks.
A practical and straightforward best-practice approach that inspires confidence in both tutors and students.
Progressive development of key academic skills, including reading academic texts, video-based listening, academic writing, audio and video based speaking tasks, study skills and research techniques.
Unit themes appealing to a wide range of learners, whatever their subject of study.
Modular unit structure, customisable to suit different course lengths and priorities.
Academic language integrated with skills work.
Support for non-specialist teachers with methodological notes and introduction to teaching EAP in the Teacher's Handbook.
Attractive, modern design combining the best features of academic and general English course books.
Specific to Advanced / C1 Level:
Authentic video-based lecture extracts provide advanced students with an appropriate level of challenge.
Writing modules help students to develop an appropriate academic style, synthesize ideas from different sources, and perhaps most importantly, find and maintain their own 'voice'.
Reading modules focus on how different perspectives are expressed in academic texts, helping students to understand the different arguments surrounding an issue.
A Research project is dealt with in manageable stages over the second half of the course (units 7 – 12). It leads students through the process of writing an extended essay on a subject of their choice, using library-based research.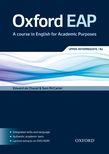 Skills and language for academic study