Spotlight on the USA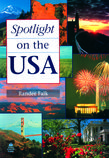 Spotlight on the USA
Randee Falk
A region-by-region introduction to life in the USA.
ISBN:

978-0-19-434235-3

Pages:

176

Binding: Paperback
Dimensions: 254x178 mm
The book consists of high-interest reading passages on prominent regions across the United States.
Each unit is divided into separate readings focusing on topics such as the history, geography, famous personalities, economics and culture of the particular region.
Illustrations and photographs in each passage heighten students' interest.
Puzzles and games at the end of each passage reinforce the topics and vocabulary.
Regular discussion points encourage cross-cultural comparisons.
Glossaries at the end of every unit provide students with concise, easy-to-understand definitions.
Maps featured throughout the text help students locate the areas highlighted in the readings.
Introduction: The American People
1 New England
2 New York
3 The Mid-Atlantic Region
4 The South
5 The Midwest
6 The Southwest
7 The Rocky Mountain Region
8 The Pacific Northwest and Alaska
9 California and Hawaii
Answer Key