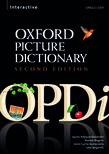 Hello
You can visit our worldwide website for our globally available teaching resources, or visit our local website for for products, events and materials for your area.
Please choose below:
Oxford Picture Dictionary Interactive CD-ROM
Jayme Adelson-Goldstein, Norma Shapiro with Jenni Currie Santamaria, and Jane Spigarelli
New edition of the CD-ROM that brings the words and illustrations in the Oxford Picture Dictionary to life with sound and animation.
Hundreds of hours of speaking, listening, reading and writing practice.
New Vocabulary Notebook allows learners to create an electronic notebook of words and images facilitating independent learning.
New videos with civics and life-skills activities provide useful language for travel.