Dizionario Oxford Study per studenti d'inglese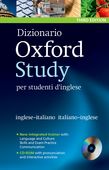 Dizionario Oxford Study per studenti d'inglese
Updated edition of this bilingual dictionary specifically written for Italian-speaking learners of English
Third Edition
A revised edition of this bilingual dictionary with hundreds of new words and phrases. Now with integrated Personal Dictionary Trainer and new writing tips.
Updated with the latest vocabulary, this new edition of the Dizionario Oxford Study now provides even more support to help students build their vocabulary and develop their English skills.

Includes authentic example sentences, usage notes, help with grammar and pronunciation, writing tips, full-colour Photo Dictionary, Personal Dictionary Trainer, study pages, and CD-ROM.

Now available as an app for your mobile device.
More than 60,000 words, expressions and examples, including hundreds of new words and phrases reflecting today's English
Usage notes on grammar, culture and difficult or confusing words and phrases, and NEW 'Writing Tips' boxes highlighting words and expressions to use in essays
Shows students how to pronounce words correctly, and includes American pronunciation where significantly different
Includes Photo Dictionary: a 24-page topic vocabulary section with full-colour illustrations
NEW 'I can talk about...' pages focus on topic-based vocabulary building and helping students develop their dictionary skills
NEW Writing practice pages help students develop their writing skills in preparation for Esame di Stato and Gradi del Trinity
Integrated Personal Dictionary Trainer helps students to make the most of the dictionary and improve their English
Study pages include learning tips, help with punctuation and modal verbs, and an irregular verbs table
CD-ROM with pronunciation of all English headwords, a Topic Dictionary for vocabulary building, a Picture Dictionary with video clips for students studying other subjects through the medium of English (CLIL), and Genie instant look-up facility
This revised edition of the Dizionario Oxford Study per studenti d'inglese is the ideal reference companion for Italian-speaking students. It contains all the vocabulary and help students need to prepare for the Esame di Stato and Gradi del Trinity or similar school-leaving examinations, as well as for KET and PET examinations.

The example sentences are corpus-based, which means they are authentic, natural, and up-to-date. Usage notes throughout the dictionary explain difficult or confusing words or phrases, or give extra information about an aspect of life or language in Britain and America. Using this dictionary, students not only learn the meaning of the word, but also how to use it correctly.

The Oxford 3000™ keywords are highlighted to help students identify the most important words to learn.

Also included is an integrated Personal Dictionary Trainer, which provides useful reference and practice exercises to help students prepare for the Esame di Stato, Gradi del Trinity and KET and PET examinations.

New in this edition is an 'I can talk about...' section which helps students to expand their topic vocabulary, and then encourages them to make active use of it. This section also helps students to develop their dictionary skills and to make the most of the dictionary.

Illustrations help students to understand difficult words, and study pages provide useful information for reference, including false friends, geographical names, expressions involving numbers, and maps of Great Britain, the United States of America and Canada, Australia and New Zealand, and the European Union.

With its clear layout and two-colour design, the Dizionario Oxford Study per studenti d'inglese is an easy-to-use, practical reference companion for Italian-speaking students.
The CD-ROM includes:
Pronunciation of all headwords in British and American English
Topic Dictionary - 68 Topics for vocabulary development
Picture Dictionary with hundreds of illustrations, including videos - particularly helpful for students using English for other subjects
Interactive exercises to provide useful practice for KET and PET examinations
Genie - for instant look-up when using the Internet or reading other documents in English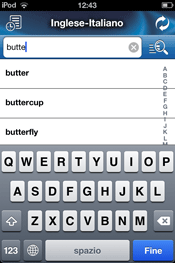 Develop your language skills and vocabulary with the
Dizionario Oxford Study
app, giving you instant access to the A-Z dictionary using your mobile device.
The app works with iPhone, iPod Touch and iPad.
Access the full A-Z dictionary
Search for the word you want in either English or Italian, even if you're not sure how to spell it correctly, and switch dictionary sides with one tap
Use Full Dictionary Search to find your word in any phrase or example sentence in the dictionary
Listen to high-quality real-voice audio pronunciation of the English words in both British and American English
Practise your pronunciation: listen to English words, record your own voice saying the words, then listen again to compare
View hundreds of colour illustrations, which you can enlarge and explore to extend your vocabulary
Use My View to choose what to look at - hide IPA, example sentences, pictures and cross-references to make entries shorter - tap to show the full entry again
Build your topic vocabulary using pre-loaded topic folders, for example Animals, Business, Jobs, Sport

Create lists of favourite words, and create folders to store them
View History to see the last 100 words you looked up

iPhone, iPod Touch and iPad are trademarks of Apple inc., registered in the U.S. and other countries.