Oxford English Picture Dictionary (Paperback)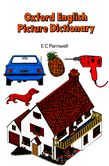 Oxford English Picture Dictionary (Paperback)
E C Parnwell
A topic-based, illustrated dictionary for all ages.
ISBN:

978-0-19-431160-1

Pages:

88

Binding: Paperback
Dimensions: 225x146 mm
2,000 words presented by topic.
Large, detailed pictures for most topics, with a numbered key linking the words with the illustrations.
Alphabetical index which includes pronunciation.
Accompanying Workbook, Wallcharts and OHP transparencies.
Bilingual editions available.