Diccionario Oxford Pocket Edición Rioplatense (Español-Inglés / Inglés-Español)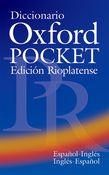 Diccionario Oxford Pocket Edición Rioplatense (Español-Inglés / Inglés-Español)
ISBN:

978-0-19-431245-5

Pages:

704

Binding: Paperback
Dimensions: 178x111 mm
Written specifically for Argentinian and Uruguayan learners of English.
Clear, accurate and up-to-date translations, based on analysis of the British National Corpus.
Clear division of senses within each individual entry.
A user-friendly design with entries in colour and extensive cross-references that help you find your way round the dictionary.
Illustrations and over 500 notes on grammatical points, vocabulary and the culture of the English-speaking world.
Cómo usar el Oxford Pocket
Introducción
Test sobre el diccionario
Diccionario Español-Inglés de la A a la Z
Hojas de estudio
Preposiciones de lugar
Preposiciones de movimiento
Cómo corregir nuestros propios textos
Cómo archivar el vocabulario nuevo
Cómo redactar una carta
La hora
Vamos a llamar por teléfono
La puntuación inglesa
A comer
Las casas en Gran Bretaña
Las instituciones británicas
Diccionario Inglés- Español de la A a la Z
Apéndices
1 Expresiones numéricas
2 Verbos irregulares
3 Nombres de persona
4 Nombres de lugar
5 Las Islas Británicas
Mapa de las Islas Británicas
6 División territorial de los EEUU
Mapa de los EEUU y Canadá
La pronunciación
Abreviaturas y símbolos
Símbolos fonéticos