Oxford Dictionary of English Idioms Paperback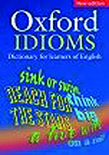 Oxford Dictionary of English Idioms Paperback
A comprehensive dictionary dealing with general idiomatic expressions in current English.
ISBN:

978-0-19-431287-5

Pages:

748

Binding: Paperback
Dimensions: 215x145 mm
Over 14,000 references recorded and described.
Example sentences taken from a wide range of contemporary sources.
Explanations of unusual features of grammar and usage.
Simple grammar scheme showing sentence patterns.
A detailed index of all nouns, verbs, adjectives and adverbs used in the idioms.
A thorough cross-reference system both to other entries in the dictionary and to relevant entries in its companion volume, the Oxford Dictionary of Phrasal Verbs.