Dictionnaire Oxford Poche pour apprendre l'anglais (français-anglais / anglais-français)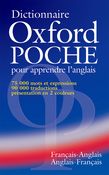 Dictionnaire Oxford Poche pour apprendre l'anglais (français-anglais / anglais-français)
A pocket bilingual dictionary specifically designed for French-speaking learners of English.
ISBN:

978-0-19-431528-9

Pages:

832

Binding: Paperback
Dimensions: 178x110 mm
This is a pocket bilingual dictionary specially designed for French-speaking learners of English.
It provides extensive coverage of up-to-date vocabulary in English and French.
It includes features such as colour headwords for ease of use.
Introductory pages contain practical help for students on getting the most out of a bilingual dictionary.
A study page section gives help with functional language, such as making a telephone call, and aspects of the English language such as phrasal verbs and modal verbs.
There is a special section on false friends in English.
The Appendices include a list of grammatical terms used in the dictionary, proper names, and maps.
Comment se servir de l'Oxford Poche
Introduction
Test sur la façon d'utiliser le dictionnaire
Dictionnaire français-anglais
Pages pratiques
Prépositions de lieu
Prépositions de mouvement
L'heure
Comment faire un appel téléphonique ?
Associations de mots
Prépositions et verbes
La ponctuation en anglais
Les verbes à particule (phrasal verbs)
Les verbes modaux
Faux amis
Dictionnaire anglais-français
Appendices
Nombres et unités de mesure
Noms de personnes
Noms de lieux
Les îles Britanniques
Les États-Unis et le Canada
L'Australie et la Nouvelle-Zélande
Termes grammaticaux
Prononciation
Abréviations et symboles
Verbes irréguliers
Symboles phonétiques