Oxford Wordpower: angol-magyar szótár nyelvtanulóknak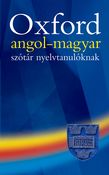 Oxford Wordpower: angol-magyar szótár nyelvtanulóknak
This dictionary contains the words and expressions for contemporary English that students need, all with Hungarian translations. It has corpus-based examples, usage notes in Hungarian, and help with the grammar of each word.
ISBN:

978-0-19-431531-9

Pages:

816

Binding: Paperback
Dimensions: 178x111 mm
This is an English-Hungarian dictionary specially designed for Hungarian students of English.
It has over 31 000 references and contains words and expressions widely used in contemporary English, with Hungarian translations.
There is a vast number of examples showing typical usage and a wealth of idioms and phrasal verbs.
Usage notes in Hungarian explain difficult grammar points, how to avoid confusing similar words and give cultural background; and notes in English show key collocations and related vocabulary.
Pronunciation is shown using the IPA system.
There are over 50 illustrations.
There are also special pages and appendices on a wide range of topics, including false friends, phrasal verbs, number expressions and computers.