Oxford Pocket: Słownik kieszonkowy (angielsko-polski / polsko-angielski)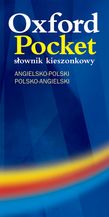 Oxford Pocket: Słownik kieszonkowy (angielsko-polski / polsko-angielski)
This new, handy-sized bilingual dictionary has wide, up-to-date coverage of British and American English and is ideal for use at home, at school, or on the move.
ISBN:

978-0-19-431598-2

Pages:

544

Binding: Paperback
English-Polish and Polish-English sections.
Easy to carry.
Essential English vocabulary.
Examples to show correct usage.
Usage notes.
'False Friends' page.