OXFORD WORDPOWER DICTIONARY ARABIC 3E PACK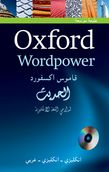 OXFORD WORDPOWER DICTIONARY ARABIC 3E PACK
A new edition of this highly successful dictionary for Arabic learners of English
Third Edition
A dictionary written specifically to support Arabic-speaking learners of English with simple definitions, thousands of examples, and an Arabic index.
ISBN:

978-0-19-431611-8

Price: $ 37.00
A new edition of this highly successful dictionary for Arabic learners of English. It has clear English definitions and Arabic translations to help build vocabulary and boost confidence. Revised to include up-to-date vocabulary plus a FREE online practice test at oxfordenglishtesting.com.

Now available as an app for your mobile device.
This pack includes:
New words and phrases
Arabic translations of all headwords, derivatives, phrasal verbs and idioms
Interactive CD-ROM with instant look up, pronunciation, reference pages, games and exercises
Oxford 3000TM - the most important and useful words to learn are marked with a key symbol
16-page colour topic vocabulary section helps build vocabulary
Oxford Elementary Learner's Dictionary explains 19,000 words, phrases and meanings and identifies the 2,000 most important words in English so students know which words to prioritize.

Notes alert students to words whose spelling students often confuse, or explain points that are particularly difficult for Arabic-speaking learners. Other Notes give extra help with grammar, pronunciation, and spelling.

The CD-ROM includes the full dictionary, with the option to search words in either English or Arabic, a Picture Dictionary, exercises, language games, and access to a free PET and KET test.
With the CD-ROM students can:
Quickly and simply access the entire dictionary
Build vocabulary with 16 new illustrated topics
Listen to the pronunciation of each word in British or American English
Prepare for exams with practice tests and exercises plus a FREE online practice test at www.oxfordenglishtesting.com
Improve their English through language games
Instantly find the meanings of words when they are on the Internet or working in Word documents.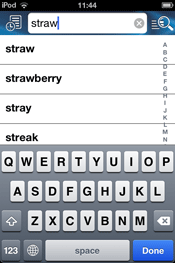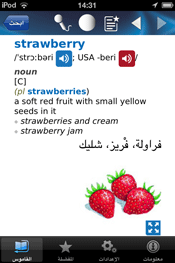 If you are an Arabic speaker learning English at school, or using English for travel or work, the
Oxford Wordpower Dictionary for Arabic-speaking learners of English
app will help you build your vocabulary and your confidence.
The app works with iPhone, iPod Touch and iPad.
Access the full A-Z dictionary (50,000 words, phrases, and meanings plus Arabic translations)
Use Full Dictionary Search to find your word in any phrase or example sentence in the dictionary
Find the word you want even if you're not sure how to spell it correctly
Listen to high-quality real-voice audio pronunciation of the English words in both British and American English
Practise your pronunciation: hear words pronounced with British and American accents, record yourself saying the words and compare your pronunciation
View hundreds of colour illustrations, which you can enlarge and explore to extend your vocabulary
Use My View to choose what to look at - hide IPA, example sentences, pictures and cross-references to make entries shorter - tap to show the full entry again
Build your topic vocabulary using pre-loaded topic folders, for example Animals, Business, Jobs, Sport
Create lists of Favourite words, and create Folders to store them
View History to see the last 100 words you looked up

iPhone, iPod Touch and iPad are trademarks of Apple inc., registered in the U.S. and other countries.