Oxford Elementary Learner's Dictionary with CD-ROM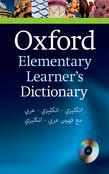 Oxford Elementary Learner's Dictionary with CD-ROM
English-English-Arabic
| | |
| --- | --- |
| Format: | Mixed media format |
A dictionary written specifically to support Arabic-speaking learners of English with simple definitions, thousands of examples, and an Arabic index.
Oxford Elementary Learner's Dictionary explains 19,000 words, phrases and meanings and identifies the 2,000 most important words in English so students know which words to prioritize.

Notes alert students to words whose spelling students often confuse, or explain points that are particularly difficult for Arabic-speaking learners. Other Notes give extra help with grammar, pronunciation, and spelling.
Includes an Arabic translation of each meaning of each word and also of idioms and phrasal verbs.
Based on research with teachers, the Notes identify words which often cause Arabic speakers problems (e.g. know, no, now and rice, rise, and help with other problematic areas of language (e.g. using by or with, capital letters).
Students can look up a word in Arabic, using the index, and then look up the English word in the dictionary for the explanation, pronunciation, example sentences, and other useful information on usage.
16 colour pages focus on topic vocabulary with Arabic translations.
Study pages provide reference material and activities - for example, Common mistakes, Letters, Words that go together, The Arab World. These pages include some explanations in Arabic.
The Oxford Elementary Dictionary helps learners understand what words mean, and how to use them correctly, with the additional support of an Arabic index and translations in Arabic. The index, which is alphabetical and starts at the back of the dictionary, shows students which word they need to look up in English. It also makes them more aware that words in Arabic do not always have a direct translation.

The dictionary focuses on the essential information that elementary learners need most. A key symbol identifies the 2,000 most important words to know, taken from the Oxford 3000™*. These 2,000 words are used as the defining vocabulary so explanations are easy to understand.

Corpus-based examples show how words work in practice, helping students use words correctly. The Focus Notes help students with culture, grammar, pronunciation, speaking, spelling, and word building. Be careful! notes help with easily confused words and other notes explain areas of the language that cause Arabic speakers most problems.

Illustrations throughout the dictionary make difficult words easy to understand. 16 pages of colour photos, also included in the dictionary, shows words in lexical sets for transport, animals, the body, clothes, food and drink, meals, fruit, vegetables, house, school, jobs, shops, sports and hobbies, weather. The CD-ROM also contains a Picture dictionary with an index you can scroll through.

* Oxford 3000™. These words are the most important because they occur frequently in the language, are widely used (in science, arts, spoken English, etc), or because there are no alternative words to express the same meaning (for example, vegetables, hungry, aunt). Oxford 3000™ keywords are used in the Oxford Wordpower Dictionary, 3rd edition, and the Oxford Advanced Learner's Dictionary, 7th and 8th editions.