Oxford Elementary Learner's Dictionary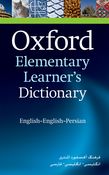 Oxford Elementary Learner's Dictionary
English-English-Persian

Shortlisted for the Runciman Award 2013
A dictionary written specifically to support Persian-speaking learners of English with simple definitions and Persian translations plus thousands of examples.
ISBN:

978-0-19-431630-9

Pages:

480

Binding: Paperback
Dimensions: 216x138 mm
Oxford Elementary Learner's Dictionary explains 19,000 words, phrases and meanings and identifies the 2,000 most important words in English so students know which words to prioritize.

Notes give extra help with vocabulary-building, grammar, pronunciation, and spelling.
Includes a Persian translation of each meaning of each word and also of idioms and phrasal verbs at the foot of the page.
Study pages provide reference material and activities - for example, Writing Letters and Emails, Telephoning, Times and dates.
Illustrations help students understand more difficult words.
Explanations are easy to understand, and use a 2,000-word defining vocabulary.
A key symbol shows students the 2,000 most important words to know in English.
500 notes help learners build vocabulary and avoid making mistakes.
The Oxford Elementary Dictionary helps learners understand what words mean, and how to use them correctly, with the additional support of translations in Persian at the bottom of the page.

The dictionary focuses on the essential information that elementary learners need most. A key symbol identifies the 2,000 most important words to know, taken from the Oxford 3000™*. These 2,000 words are used as the defining vocabulary so explanations are easy to understand.

Corpus-based examples show how words work in practice, helping students use words correctly. The Notes help students with culture, grammar, pronunciation, speaking, spelling, and word building.

Illustrations throughout the dictionary make difficult words easy to understand.

* Oxford 3000™. These words are the most important because they occur frequently in the language, are widely used (in science, arts, spoken English, etc), or because there are no alternative words to express the same meaning (for example, vegetables, hungry, aunt). Oxford 3000™ keywords are used in the Oxford Wordpower Dictionary, 3rd edition, and the Oxford Advanced Learner's Dictionary, 7th and 8th editions.