Oxford English-Greek Learner's Dictionary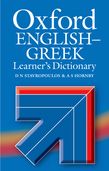 Oxford English-Greek Learner's Dictionary
D N Stavropoulos and A S Hornby
This successful dictionary has been revised to make it clearer and easier to use.
New, clearer colour layout.
The keywords of the Oxford 3000™ are marked to help you prioritize your learning.
The phonetic alphabet appears at the foot of each page.
New appendices on expressions with numbers, phrasal verbs, letter writing, etc.