Diccionario Oxford Pocket para estudiantes latinoamericanos de inglés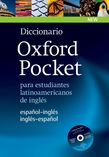 Diccionario Oxford Pocket para estudiantes latinoamericanos de inglés
This new bilingual learner's dictionary with CD-ROM is specifically designed for Latin American students of English.
| | |
| --- | --- |
| Format: | Mixed media format |
New pocket-sized bilingual dictionary with wide, up-to-date coverage of Latin American Spanish and American and British English.
The new Diccionario Oxford Pocket para estudiantes latinoamericanos de inglés contains the latest vocabulary, information on how to use words, Latin American Spanish translations, and a focus on dictionary skills.

Includes example sentences, notes on grammar, vocabulary and culture, a full-colour Picture Dictionary, "I can talk about..." section, and study pages.

The CD-ROM includes the new iGuide, an interactive tutorial to help students make the most of their dictionary.
More than 72,000 words, expressions and examples
More than 61,000 translations
Up-to-date words, phrases, and translations reflecting today's Latin American Spanish and American and British English
Oxford 3000™ keyword entries show students the most important words to know in English
More than 700 usage notes on grammar, culture, and difficult or confusing words and phrases
Shows students how to pronounce words correctly, and shows where British English pronunciation is different
"I can talk about..." pages focus on topic-based vocabulary building and helping students develop dictionary skills
Communication section, with activities to develop speaking skills in real-world situations
Study pages include help with punctuation and modal verbs, geographical names, false friends, and writing letters and emails
CD-ROM includes the full text of the dictionary, pronunciation of all English headwords, a Topic Dictionary, a Picture Dictionary, exercises, games, the Genie instant look-up facility, and the iGuide
The Diccionario Oxford Pocket para estudiantes latinoamericanos de inglés is specifically designed to help Latin American students improve their English skills.

It has broad and up-to-date coverage of Latin American Spanish, including many Colombian, Peruvian, Chilean and Mexican words, for example ACPM, brevete, bolsero and changarro. It contains the latest vocabulary, for example ciclovía, franquicia, privatizar, fashionista, SIM card, and tweet.

This dictionary gives wide coverage of both American and British English, with translations in Latin American Spanish. It shows pronunciations of all English headwords and has clear and accurate definitions and translations, with thousands of authentic and up-to-date example sentences.

The Oxford 3000™ keywords are highlighted to help students identify the most important words to learn.

Usage notes shown in blue boxes throughout the dictionary help students build vocabulary and use words correctly. The notes explain difficult or confusing words or phrases and give extra information about grammar and American and British culture. Using this dictionary, students not only learn the meaning of the word, but also how to use it correctly.

The "I can talk about" section helps students to expand their topic vocabulary and then encourages them to make active use of it. This section also helps students to develop their dictionary skills and to make the most of the dictionary.

A communication section gives useful examples of everyday English and provides practice exercises to develop students' speaking and vocabulary skills.

Illustrations help students understand difficult words, and study pages provide useful information for reference, including help with writing letters and emails and common text message abbreviations, false friends, modal verbs, prepositions, geographical names, and colour maps of the United States of America and Canada, Great Britain, and Australia and New Zealand.

The 32-page Picture Dictionary, included in the dictionary, shows words in lexical sets covering transport, animals, the body, clothes, food and drink, meals, fruit, vegetables, homes, buildings, school, jobs, stores, sports, leisure, and weather. You can search the indexed Picture Dictionary on the CD-ROM.

Students can use the CD-ROM to search the complete A-Z dictionary and illustrations, either by word or by topic. They can look up words in either English or Spanish. They can hear headwords pronounced in American and British English and can record their own voice to practise pronunciation.

Language games and exercises help consolidate new vocabulary.

Also on the CD-ROM is the new iGuide, an interactive tutorial to help students find out how the dictionary works.

When using the Internet or reading Word documents, the pop-up Oxford Genie means students can look up any words they don't know, and hear them pronounced.
The CD-ROM allows students to:
Search the complete Diccionario Oxford Pocket, including hundreds of illustrations
Hear the pronunciation of all headwords in American and British English
Record their own voice to practise pronunciation
Build topic vocabulary with the Topic and Picture Dictionaries
Practise new vocabulary using the interactive language exercises and games
Explore dictionary entries with the iGuide, the interactive tutorial to show what's in an entry
Look up words they don't know and hear them pronounced when using the Internet or reading Word documents with Genie instant look-up