Diccionari Oxford Pocket Catala Per a Estudiants D'angles Pack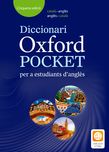 Diccionari Oxford Pocket Catala Per a Estudiants D'angles Pack
Helping Catalá students to build their vocabulary and develop their English skills
Fifth Edition
| | |
| --- | --- |
| Format: | Mixed media format |
Oxford's dictionaries are world-famous. Our bilingual and monolingual dictionaries are written specifically for learners of English.
The Diccionari Oxford Pocket Català 5th Edition has been fully updated with more than 800 new words and includes a comprehensive study section, phonetic transcriptions of all English headwords, and other supportive elements tailored to school students. Go beyond our best-selling dictionary experience with a new app.

With its clear layout and design, and durable flexible cover, the Diccionari Oxford Pocket Català 5th Edition is an easy-to-use, practical reference companion for students.
This pack includes:
Dictionary
One-year access to app
More than 800 new words, with topic-based vocabulary, include the Oxford 3000™ keywords that students need most.

Usage notes on grammar, vocabulary and culture, designed to help Catalan speakers with the language aspects they find most challenging.

Supportive illustrations help students further extend their vocabulary.

Activities included in the 12-page 'I can...' study section and the 10-page section for bilingualism build authentic language and promote independent study skills.

The print dictionary contains a one-year free access code for the Oxford Pocket app.
Oxford Pocket app includes British and American pronunciation of all words, record-and-compare Practise your Pronunciation feature, Customisable Favourites for learners to make their own vocabulary lists, and hundreds of full-colour illustrations.