Oxford Essential Dictionary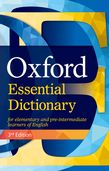 Oxford Essential Dictionary
A new edition of the corpus-based dictionary that builds essential vocabulary
Third Edition
| | |
| --- | --- |
| Format: | Mixed media format |
Updated with new words, Oxford Essential Dictionary is a corpus-based dictionary of the essential vocabulary that learners need at elementary to pre-intermediate levels. This new edition includes a digital access code to downloadable vocabulary resources.
The Oxford Essential Dictionary helps learners understand what words mean and how to use them correctly. It is written by a team of specialist lexicographers with international experience in teaching English.
This pack includes:
Print book
Digital vocabulary resources
19,000 words and phrases in British and American English, including 350 NEW words.
NEW Oxford 3000 keywords graded by level that show students the most important words to learn.
14,000 examples to help students use words correctly.
500 notes on spelling, grammar and pronunciation to help students avoid mistakes.
400 illustrations and photos that explain difficult words.
NEW 20-page colour Picture Dictionary with topics such as animals, food and drink, and the body.
NEW Guide to the dictionary to help students use the dictionary, with exercises to help them learn.
Downloadable vocabulary resources with worksheets to practise topic vocabulary, a Picture Dictionary and real-voice audio.
Build your vocabulary
This new edition includes 350 new words to reflect today's English, for example 3D printer, climate crisis, coronavirus and fake news. 19,000 words and phrases include the equivalent word in American English (cash machine/ATM, aubergine/eggplant, wallet/billfold).

Understand the meaning
The dictionary contains simple definitions explained in easy language, designed for elementary and pre-intermediate learners. The defining vocabulary consists of the first 2,000 words of the Oxford 3000, so if students learn these first, they can easily understand all the other words in the dictionary.

Develop your skills
The 500 blue note boxes help students with culture, grammar, pronunciation, speaking, spelling, and word building. Which Word? notes help with easily confused words and common errors (e.g. alone/lonely, among/between).The Study Section covers the skills of writing letters and emails and filling in forms and includes exam practice suitable for Cambridge A2 Key and Trinity ISE Foundation.

A digital code on the inside back cover gives access to downloadable vocabulary resources, including worksheets to practise vocabulary on ten different topics, the Picture Dictionary, and real-voice audio of all the words in the worksheets, with a spoken example sentence for each word.