Diccionario Oxford Study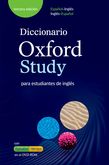 Diccionario Oxford Study
Para estudiantes de inglés (Español-Inglés/Inglés-Español)
Third Edition
| | |
| --- | --- |
| Format: | Mixed media format |
A new edition of this best-selling dictionary to develop students' skills for the Bachillerato and international exams.
Updated with 1000+ new entries and two new speaking and writing tools - Oxford Writing Tutor and Oxford Speaking Tutor.
NEW Writing Tutor helps students plan, write and review the types of written work required for Bachillerato and international exams.
NEW Speaking Tutor develops conversation skills and pronunciation with exam-style practice activities.
NEW Language Bank notes help students learn the vocabulary that will improve their writing for Bachillerato and international exams.
NEW 1000+ new entries, senses and expressions.
NEW Shows the Oxford 3000™ keywords, the most important and useful words to know in English.
NEW Greater coverage of American English.
The Diccionario Oxford Study is written for Spanish-speaking learners of English. It tells learners in detail what they need to know about English, and how to use English.

The entries are selected on the basis of frequency and relevance to the learner's level and needs.

Entries and example sentences are informed by corpus research.