Oxford Learner's Thesaurus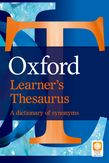 Oxford Learner's Thesaurus
Understand the differences between similar words
New

| | |
| --- | --- |
| Format: | Mixed media format |

Shortlisted for British Council UK ELT Innovation Award
No two words mean exactly the same. The Oxford Learner's Thesaurus helps you to understand the differences between similar words in written and spoken English and find the right words to say exactly what you mean.
The Oxford Learner's Thesaurus groups words with similar meanings and explains the differences between them. It is a dictionary of synonyms and opposites that helps learners of English distinguish between similar words and use them correctly. Students can also explore the entire Thesaurus on the Oxford Learner's Thesaurus app.
This pack includes:
Over 17,000 synonyms and opposites are explained.
Alphabetical index makes it easy to find the word you are looking for.
16 study pages focus on different topics with exam-style exercises.
Unique topic maps bring together subject-related vocabulary.
9-page Trainer helps users make the best use of the Thesaurus.
Two years of access to the app containing the complete Thesaurus.
The Oxford Learner's Thesaurus helps you understand the differences between familiar words such as "easy" and "simple", while learning words you may not know such as "painless" and "plain sailing". Each entry has a group of 3-10 synonyms, and each synonym is clearly explained in terms of meaning, grammar and register. Example sentences show how each synonym is used, while notes highlight and explain synonyms that are particularly close in meaning or easily confused.
Digital code with two years of access to the Learner's Thesaurus app for iOS or Android
Fully-searchable 17,000-word index to easily find synonyms for any word in the dictionary
Real British and American voices that pronounce the words and their synonyms
30 pre-loaded topics that contain useful word lists you can add to or edit
Option to create and organize your own lists of favourite words