Oxford Basic American Dictionary for learners of English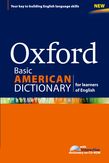 Oxford Basic American Dictionary for learners of English
A dictionary for English language learners (ELLs) with CD-ROM that builds content-area and academic vocabulary
The dictionary experts at Oxford present a new range of American learners dictionaries specifically designed for English language learners.
Language Level: Elementary to pre-intermediate (A1-A2)
ISBN:

978-0-19-439969-2

Price: $ 20.00
Binding: Paperback
The Oxford Basic American Dictionary for learners of English features:

Low Intermediate-Intermediate
560 pages
27,000 words, phrases, & meanings
15,500 examples
2,000 core word vocabulary
500 color illustrations
25 reference pages
Academic Word List labeled
Content Area words labeled
Interactive CD-ROM

Book
CD-ROM (only available with Oxford Basic American Dictionary)
27,000 words, phrases, and meanings with Academic Word List words and content area vocabulary in math, science, social studies marked
2,000 keyword entries marked, showing the most important words to know in English.
15,000 examples show how words are used.
25 Reference pages with information on punctuation, irregular verbs, geographical names, and more.
500 colour illustrations make it easy to understand more difficult words.
Note boxes provide extra help throughout - thesaurus, word building, collocations, pronunciation, grammar, spelling, prefixes, and suffixes.
CD-ROM with spoken words and sentences, searchable Picture Dictionary, and Topic Dictionary
Oxford's new American Dictionaries for learners of English offer students a dictionary that is just right for their level. Written specifically for students working to improve their English language skills, these dictionaries support English learners, struggling readers, and special education students with Basic to Advanced levels. Based on extensive research with U.S. teachers and language-learning experts, these three new dictionaries help students:

Transition from picture dictionaries more easily by using words they can understand for definitions and using illustrations for more difficult words.

Learn content area words from math, chemistry, biology, geography, etc.

Focus on the Academic Word List and the Oxford 3000TM(the most important words to learn in English).

Extend their vocabulary with extra help note boxes throughout the dictionary-help with related vocabulary synonyms, topic collocations, Academic Word List collocations, and word families, affixes, and more.

Write different types of texts in English, from resumes to e-mails to essays, with the Writing Tutor (Intermediate and Advanced levels only).

Included in each dictionary is a CD-ROM containing a separate Picture Dictionary and a Topic Dictionary, allowing students to search for words by content area or topic, and create their own topic dictionaries. The full A-Z dictionary is included with spoken headwords and a 'record your own voice' function for practicing pronunciation.

A dictionary CD-ROM that covers 27,000 words, phrases and meanings, including content area and academic vocabulary.

Only available with Oxford Basic American Dictionary.

The Oxford Basic American Dictionary CD-ROM includes the full A-Z dictionary, spoken words, 6,500 spoken sentences, a searchable Picture Dictionary, a Topic Dictionary and the option to create personal word lists. A pop-up Genie gives the meaning of words students find when working in Word, in emails or on the Internet.

Key Features
· Search the complete A-Z dictionary, with all headwords, Usage Notes, and illustrations

· Listen to the spoken 27,000 words and 6,500 spoken sentences. Students can record and listen to their own voice

· Extend vocabulary using the searchable Picture Dictionary

· Learn the 2,000 keywords (the most important words to know in English), marked with a key symbol, and Academic Word List words, marked with an AWL symbol

· Search words by topic in the Topic Dictionary, and create personal word lists to build vocabulary faster

· Use the pop-up Genie to look up words when working in Word, in emails or on the Internet to check meaning and pronunciation

The CD-ROM includes the full A-Z dictionary which focuses on the essential information that elementary and low-intermediate learners need most. It identifies the 2,000 most important words to know, taken from the Oxford 3000™. These 2,000 words are used as the defining vocabulary so explanations are easy to understand. They are listed in the back of the dictionary and downloadable from the CD-ROM to use as a revision checklist or as a basis for a vocabulary syllabus.

System Requirements
Windows XP, Windows Vista, Windows 7 (350MHz, 256 MB RAM); Macintosh OS X 10.4, 59MHz, 256 MB RAM.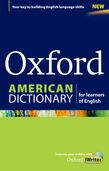 Build vocabulary and achieve academic success.
You may also be interested in...