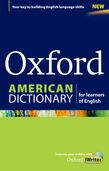 Hello
You can visit our worldwide website for our globally available teaching resources, or visit our local website for for products, events and materials for your area.
Please choose below:
Oxford American English Dictionaries for learners of English
A series of three American English dictionaries to build the language skills students need for academic success
Your keys to academic success: three American English dictionaries with CD-ROM plus a vocabulary handbook to build, extend and consolidate vocabulary and to develop writing skills.
Oxford American English Dictionaries are written for learners of English. The content is based on research with teachers in the USA and is informed by an Advisory Board of language experts - Jayme Adelson Goldstein, Cheryl Boyd Zimmerman, Keith Folse, and Alison Rice.

The dictionaries label the Oxford 3000™ keywords, the most important words to know in English (2,000 at Basic level). These words are also used for the defining vocabulary. At Basic level, only 2,000 of the Oxford 3000™ words are included.

Academic Word List words are labelled, and at Basic and Intermediate level, content-area vocabulary is also marked (math, social studies, etc).

The CD-ROMs include the full dictionary, picture dictionary, spoken words (spoken example sentences at Basic level), 'record your own voice' pronunciation practice, a Topic Dictionary and option to create personal word lists, and Genie, which looks up words when you are reading a Word document or online.

Our research showed that students often need help with developing good writing skills. At intermediate and advanced levels, the Oxford Writing Tutor (included in the print dictionary) and Oxford iWriter (on CD-ROM) show students how to plan, write and review a range of writing tasks, from argument essays to cover letters.

You can help students build and consolidate their vocabulary further using the 50 dictionary lessons in the Oxford American Dictionary Vocabulary Builder. It's recommended for class or for home, for students at intermediate level and above.
For Oxford American English Dictionaries for learners of English
(3)
You may also be interested in...