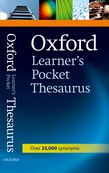 Hello
You can visit our worldwide website for our globally available teaching resources, or visit our local website for for products, events and materials for your area.
Please choose below:
Oxford Learner's Pocket Thesaurus
A compact dictionary of synonyms and opposites.

Based on the Oxford Learner's Thesaurus which was shortlisted for the British Council ELTon 2009 awards.
A handy, pocket-size thesaurus which helps students find synonyms and opposites for over 5,000 key words.
No two words are exactly the same but this Oxford Learner's Pocket Thesaurus can help students find the words to say exactly what they mean. It has over 25,000 synonyms and opposites plus a wealth of extra information to help students identify differences and choose words that are right for the context.
Counterpack (includes 5 copies of the Pocket Thesaurus)
Up to 12 synonyms given for each of 5,000 key words
Different terms are clearly marked, for example, British/American, formal/informal, approving or disapproving
100s of notes help identify the exact differences between pairs of synonyms
Patterns and collocations help learners use the synonyms in context
Extra information at each entry helps students decide which word from a synonym group to use. This includes:

Opposites of synonyms
Different senses of the word, e.g. wide = broad or wide = extensive
Notes that compare and contrast two or three synonyms so students can see the differences.
Patterns and collocations showing the words that typically combine with synonyms in a group, to help students use the word in context.
Style labels that act as a guide as to whether the word is positive or negative, or perhaps only used in British or American English, for example.
Examples of correct and incorrect usage.
For Oxford Learner's Pocket Thesaurus
(1)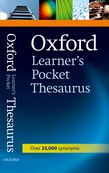 Oxford Learner's Pocket Thesaurus
978-0-19-475204-6
A synonym dictionary written especially for learners. Essential information abou...