Hello
You can visit our worldwide website for our globally available teaching resources, or visit our local website for for products, events and materials for your area.
Please choose below:
Oxford Picture Dictionary
A complete vocabulary development program
Jayme Adelson-Goldstein and Norma Shapiro

Winner American Inhouse Design Award
Build your students' vocabulary, reading and critical thinking skills.  A richly illustrated thematic dictionary with easy-to-learn vocabulary units supported by a full range of teacher and classroom resources.
Oxford Picture Dictionary is a fully integrated vocabulary development program, progressing from essential words to the more complex, delivered in short thematic units. Realistic scenarios and modern artwork are easy to relate to and these, together with story pages and practice exercises, have been applauded for their success in promoting language skills.  Content is fully supported by a range of components – including innovative digital tools for student practice, interactive whiteboard presentation software, workbooks, classroom activities, audio and more.
Monolingual English Edition
           
English-Brazilian Portuguese Edition
     
English-Farsi Edition
 
English-Haitian Creole Edition
           
English-Korean Edition
           
English-Spanish Edition
     
English-Urdu Edition
     
English-Arabic Edition
     
English-Chinese Edition
     
English-French Edition
       
English-Japanese Edition
       
English-Russian Edition
       
English-Thai Edition
       
English-Vietnamese Edition
       
Low Beginning Workbook
         
Low Intermediate Workbook
         
High Beginning Workbook
           
Lesson Plans
         
Classic Classroom Activities
       
Vocabulary Teaching Handbook
       
Assessment Program
       
Dictionary Audio CDs
     
Dictionary Cassettes
       
Clear, vibrant illustrations define over 4,000 words and phrases.
13 bilingual editions with complete second language indexes now including new Farsi and Urdu editions.
Practice activities enable students to immediately use the target vocabulary.
Sub-topics organize words into logical groupings, making the new edition easier to navigate through.
Intro pages, Story pages, and More Verbs and Phrases sections help learners improve their vocabulary as well as reading, critical thinking, and speaking skills.
A wealth of extra resources means teachers can use the Oxford Picture Dictionary as a fully integrated course. The full package includes lesson plans, classroom activities, workbooks, audio program, overhead transparencies, vocabulary teaching handbook, bilingual family handbook, test software, and a companion website. A new dedicated Reading Library and Interactive CD-ROM are also available.
Content is organized within 12 thematic units, including Everyday Language, People, Housing, Food and Recreation.

Each unit starts with an Intro page and ends with a story page, with single or double-page sub-topics introducing new words in a realistic visual context and easy-to-learn "chunks."

The target vocabulary is listed and simple practice activities help students put their new words into practice.

Story pages include pre-reading questions to build previewing and predicting skills and post-reading questions and role-play activities to support critical thinking and to encourage students to use the new language they have learned.

Rich visual contexts recycle words from the unit. This structure is designed to address the needs of multilevel classrooms. Supporting components include more guidance on this topic as well as assessing needs and lesson planning. (available in English only).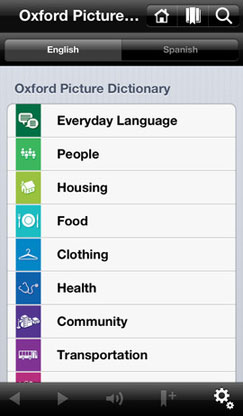 The Oxford Picture Dictionary (OPD) app provides instant access, anytime and anywhere, to the bestselling picture dictionary.
Developed specifically for English language learners, the OPD app is designed to enrich, extend and reinforce vocabulary learning. With over 4000 terms + bilingual audio in English and Spanish, the app provides the vocabulary essential for effective communication in English.
In addition to versatile classroom use, the app is ideal for parents, translators, travelers or anyone interested in learning vocabulary in English or Spanish.
Use the app alone or paired with the print dictionary to provide the perfect vocabulary solution for your students. The OPD app is designed for the iPhone®, iPad®, and iPod touch®
Introduce students to 4,000 terms, organized into 12 thematic units, including Everyday Language, People, Housing, Food and Recreation, and more! Each unit includes phrases and expressions from everyday life that help put words and images in context
Engage and motivate students with vibrant art and an easy-to-use format
Provide students with unlimited independent practice and multiple exposures to the terms
The zoom-in/zoom-out feature allows students to better experience the vocabulary within each scene and image
Bookmark any entry to easily search for terms
Use the search function, to quickly look up any term in the dictionary

For Oxford Picture Dictionary
(16)