Oxford Picture Dictionary Teacher Resource Center

Oxford Picture Dictionary Teacher Resource Center
Third Edition
Vibrant, realistic illustrations and unparalleled teaching support make the Oxford Picture Dictionary Program what every classroom needs to build students' vocabulary, reading, and critical thinking skills.
ISBN:

978-0-19-450540-6

Licence Length:

18 months
The online Teacher Resource Center provides a one-stop-shop for busy teachers. Access a variety of materials to complement the Oxford Picture Dictionary Third Edition, including lesson plans, worksheets, an assessment program and authentic news articles.

Simply purchase an access code card and sign up at www.opdtrc.com to get started!
Lesson Plans offer easy and effective planning in seven basic stages
Reproducible Worksheets include multilevel listening activities, grammar, and pronunciation
Classic Classroom Activities engage students with 174 dynamic partner and small-group activities. Includes over 900 picture cards!
Class Audio Program gives learners the option to listen to the Dictionary words and readings
Assessment Program is flexible to suit your classroom needs. Includes customizable tests for every Oxford Picture Dictionary topic as well as extensive question banks
Videos aligned with 20 Oxford Picture Dictionary topics engage students and support vocabulary learning
Newsela high-interest news articles and comprehension questions support reading and critical thinking skills
Images for all 4,000 Oxford Picture Dictionary vocabulary terms can be used to facilitate in-class activities and practice
Professional Development Resources include the Vocabulary Teaching Handbook, the College & Career Readiness Toolkit, correlations to state and national standards, and more
The online Teacher Resource Center gives you access to thousands of files to support your students and reduce class prep time.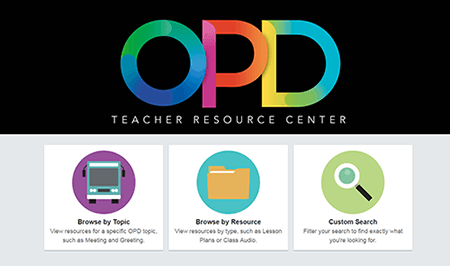 Watch this video to find out more
Simply purchase an access code card and sign up at
www.opdtrc.com
to get started!

Vibrant illustrations and unparalleled support for vocabulary teaching to meet the needs of today's English language learners.