Hello
You can visit our worldwide website for our globally available teaching resources, or visit our local website for for products, events and materials for your area.
Please choose below:
Age-appropriate ECCE preparation material.
Balanced coverage of all exam sections.
Extra support includes tips, language guides, and model writing tasks.
Regular review pages.
Overprinted Teacher's Book.
Part of a multi-level series of American English exams courses.
For ECCE result!
(2)

Companion Workbook
978-0-19-481702-8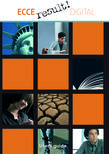 Digital CD-ROM
978-0-19-481581-9